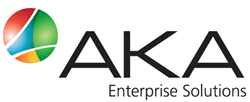 New York, NY (PRWEB) February 16, 2016
AKA Enterprise Solutions recently joined Microsoft's SMB Champions Club, an exclusive program designed for industry leading partners who have proven their commitment of delivering Microsoft solutions to the small and medium business (SMB) segment. Microsoft partners who meet certain revenue criteria for Microsoft Office 365 or CRM Online sales who also are Gold certified are eligible.
AKA has significantly grown their SMB practice, graduating as a top performer from the Dynamics CRM Online Acceleration Program, joining the Cloud Solution Provider (CSP) program, offering Azure hosting services for SMB customers and becoming a certified Marketing Sales Center (MSC). In addition, AKA Managing Director, Jack Ades, participated as a panel speaker at the CRMOL Unified Cloud Offering Panel at WPC 2015.
"In partnership with Microsoft we have developed a strong SMB marketing, sales and delivery engine that contributed to 50% growth in SMB customer adds in 2015. Our membership in the SMB Champions program demonstrates our continued commitment to providing awesome value to small and medium sized companies," said Jack Ades, Managing Director, AKA Enterprise Solutions.
About AKA Enterprise Solutions
For over 25 years, AKA Enterprise Solutions has been a leading system integrator dedicated to the sales, consulting, service and support of Microsoft Dynamics. AKA focuses on integrating and delivering all aspects of a client's business needs including Enterprise Resource Planning (ERP), Customer Relationship Management (CRM), Business Intelligence (BI), Systems Engineering, Business Process Consulting and Custom Application Development. AKA's experience, proven methodologies and world- class consultants ensure customer success on every level. For more information visit http://www.akaes.com