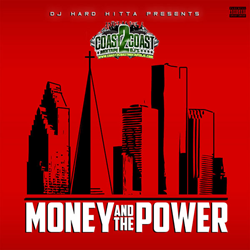 Houston, TX (PRWEB) February 12, 2016
Today Coast 2 Coast Mixtapes announce the release of the "Money And The Power" by DJ Hard Hitta . The Mixtape is currently available for streaming and download on the Coast 2 Coast Mixtapes' website.
This is an exclusive project; DJ Hard Hitta delivers once again by Breaking Brand New Heat, straight from the Streets!
The mixtape features 22 tracks, including those below:
01. Intro - OG Wickett Crickett (RIP)
02. SIMF - Qipp Smithers Ft JUS Lyric
03. Faded - Young Symba Madness Fly
04. Make Sh*t happen - Jus Kno Mac ft Haroldllujah
05. Hi Sidin - Lil O
06. Fiya - Nessacary
07. Hoe Sh*t - Fresco Kane Ft. Jazze Pha
08. Porn Star - Lou Muzic
09. Get It - June James Bravo
10. Gangsta - Trill Gladiators (ThrillaT Hustle, Bun B)
11. Juggin Finnessin - Nova ft Ban Ban
12. Boss In My City - King Hendricks ft Sauce Walka, Beat King
13. 1000 Miles - Ms Raindrop
14. In The Kitchen - Young Freq feat Starlito
15. 4 Lanez - K Mitch
16. You Never Know - Jevarian
17. What I Gotta Do - Sweet Water
18. Out Tha Lot - XO ft Rizoo Rizoo, Sosamann
19. Time 2 Spare - Tyrus
20. 258366- Freon Icycold ft Psycho Sid
21. Made - Frank Loot
22. What's Up - Ice Water Players
DJ Hard Hitta is currently seeking press opportunities, interviews, features, and more. He can be reached at the following locations:
http://twitter.com/@DJ_HARD_HITTA
To download or listen to the new project, Money And The Power, please visit the Coast 2 Coast Mixtapes site at http://coast2coastmixtapes.com/mixtape/money-and-the-power
.
The mixtape can also be streamed on Datpiff, the largest mixtape site in the world, at http://www.datpiff.com/DJ-Hard-Hitta-Money-And-The-Power-The-Mixtape.764599.html
About Coast 2 Coast Mixtapes: Coast 2 Coast Mixtapes are the most widely distributed mixtapes in the world, with over 100 million downloads/plays generated by over 300 volumes officially hosted by major artists. Coast 2 Coast has a solid reach in the new music industry with a digital magazine, DJ coalition, industry tips blog, yearly convention, and more. Coast 2 Coast Mixtapes represents a unique opportunity for artists of all urban genres, from major to indie. For more information, visit http://www.coast2coastmixtapes.com.