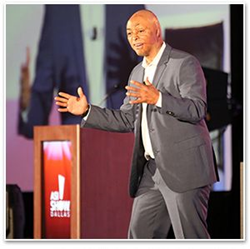 "You can control your attitude, your willingness to learn, your willingness to grow," JR Martinez told trade show audience in Dallas.
Dallas, TX (PRWEB) February 11, 2016
J.R. Martinez, a U.S. Army veteran who suffered debilitating burns while serving in Iraq, brought a business audience to tears Thursday at ASI Show® Dallas with a keynote address on his journey from hospital bed to Hollywood.
"You can control your attitude, your willingness to learn, your willingness to grow," said Martinez, who refused to let his injuries define or stop him, instead devoting his life to motivating others after his near-death experience at age 19. Now 32, Martinez (@iamjrmartinez) went on to become a sought-after speaker, New York Times best-selling author, actor and winner of TV's Dancing with the Stars.
The keynote was a highlight of ASI Show Dallas (#asidallas), hosted by the Advertising Specialty Institute® (ASI), the largest member organization in the $22.2 billion promotional products industry. ASI's annual trade show was held Tuesday, February 9, through Thursday, February 11, at the Kay Bailey Hutchison Convention Center, bringing together distributors, suppliers and decorators from 38 states and five countries.
Martinez shared his touching story of survival, hope, persistence and success with a rapt audience who applauded his strength and perseverance with two standing ovations. "It all starts with your attitude," said a lively, often funny Martinez. "Focus on controlling what you can control."
Thelma Leal-Robles, of McAllen, Texas, said the "amazing" speech made her realize how critical attitude is to success. "It's what we need to remember: Start every day with a positive attitude," she said.
Over 3,000 distributors and 466 suppliers (including 75 new this year) visited ASI's Dallas show, which took place in the No. 1 region in the country for ad specialty sales of branded or logoed products, with Texas alone representing $2.3 billion in sales. The show featured 143 Dallas-area companies, 233 women-owned companies and 215 minority-owned businesses.
"ASI's Dallas show continues to be a strong draw for suppliers, distributors and decorators who want to extend their professional network, close deals, take classes and preview the very latest products in a destination city that has it all: easy access, great restaurants and historical significance," said Rita Ugianskis-Fishman, senior VP and GM of ASI Show.
The Fox 4 TV news station in Dallas, with Emmy Award-winning Consumer Reporter Steve Noviello, featured ASI and the industry's hottest products during a morning show segment on day two of the show.
All told, 22 distributor companies chose Dallas to host meetings, a 10% increase over 2015. ASI also partnered with three large regional associations at Dallas – the Promotional Products Association of the Southwest, Houston Promotional Products Association and the Sunbelt Promotional Products Association.
"The ASI Show is the one mecca place to go to put our distributors in a setting with our preferred suppliers," said distributor Forrest Fairley, of Safeguard. "ASI is so generous in providing us the meeting space and hospitality. The show is just a great networking opportunity for the exchange of ideas."
Busy suppliers said they appreciated steady show floor traffic.
"We exhibit at ASI Show Dallas because there is nowhere else we can meet all of these distributors and make these relationships," said David Dick, of Sling Grip. "There is no way we could get in front of this audience unless we were at the ASI Show."
"Everywhere you go at the Dallas show, there are new people to meet and great connections to be made," said Timothy M. Andrews, ASI president and CEO. "You can discover unique products in the morning, close a deal by the afternoon and kick back at dinner that night, knowing you've put in the time to make the most of the show experience and really grow your business."
About ASI Show
The ASI Show Family of Events – ASI Show, fASIlitate, ASI Roadshow and Engage – fosters business-building relationships throughout the promotional products industry. Visit http://www.asishow.com for more information.