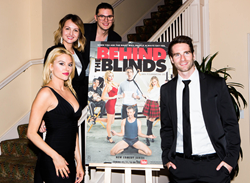 Daniel Frisch, Producer (Hostel): "Not once did anything take me out of the moment. I thought it sounded great, the editing was perfect, and the directing and production value were as good as it gets."
Los Angeles, California (PRWEB) February 16, 2016
The remaining seven episodes of the first season will be playing on YouTube every Thursday over the next two months. Viewers are encouraged to subscribe to the channel to help make further seasons of the series possible.
Daniel Frisch, Producer (Hostel): "Not once did anything take me out of the moment. I thought it sounded great, the editing was perfect, and the directing and production value were as good as it gets."
Ivan Kraljevic, Director/Producer (multiple film fest winner): "It was very original and well done for a low-budget miniseries. It's a multicultural glimpse behind the scenes of Hollywood. And it is really, really funny. I enjoyed watching it and I look forward to the next season."
Frank Borin, Director/Writer (Cypress Hill – Still Smokin'): "I have to tell you it was very, very, very absolutely insanely ridiculously funny to see two stereotypical Russian characters have many layers to them, and be refreshingly different. I cannot wait to see more of those two guys because I am addicted to my Russian gangsters."
Sponsors supporting the series premiere include world-famous lager Stella Artois and "America's Top Hot Dog" Pink's.
For more information, please contact
Val
424-216-0472
About "Behind the Blinds AKA Filmmaking 101"
The series is produced by ASCA Films -- a Los Angeles-based film and TV production company. The international team of Ukrainian, French and Spanish filmmakers (Anna Skrypka, Charles Ancelle, Adrian R. Morales) assembled together to shoot a hilariously provocative new web series comedy.
"Behind the Blinds AKA Filmmaking 101" is the first English scripted web comedy series on filmmaking to be released on YouTube.
ASCA Films currently has produced one eight-episode season, running six to eight minutes each.