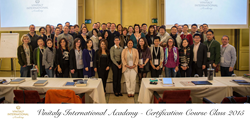 This year at Vinitaly, in addition to holding our second certification course for Italian Wine Ambassadors, we'll hold our first ever natural wine competition, called 'Free Wine: Wine Without Walls
New York, USA (PRWEB) February 12, 2016
The richness of Italian wine variety was the theme of the day on Tuesday, as the Vinitaly International Academy (VIA) took the stage at the New York Midtown Hilton in two masterclasses for industry professionals, highlighting the diversity and craftsmanship of Italian wines.
The seminars were the showcase event for Vinitaly International at the 5th edition of the Italian Trade Commission's Italian Wine Week, VINO 2016, held February 7-9. The morning session, an Advanced Level seminar entitled "Grignolino, or the Incredible Lightness of Wine Being," focused on one of Italy's most underrated grapes.
As he led attendees on a guided tasting of Grignolino del Monferrato Casalese from eleven estates, Dr. Ian D'Agata, international wine journalist and scientific director of VIA, explained why he chose the grape as the focus of the tasting. "Grignolino gives lovely wines that are light red in color, high in acidity and high in tannins. It was largely unfashionable in the '80s and '90s, when everyone wanted big, fleshy, low-acid wines with lots of chocolate and coffee," Dr. D'Agata explained. "But now in the 21st century we're more in tune with food-friendly wines that won't weigh you down. At around 13% alcohol, Grignolino is a great lunch time wine, because you can drink it without being afraid of falling asleep – it's really the perfect wine for today's hectic lifestyle."
Franco Angelini, the president of the Consortium of Grignolino di Monferrato, took the stage to explain the history of Grignolino and its fallen fortunes. "Grignolino was a favorite of 17th and 18th century nobility, because it is the only light red Piedmont wine. Production fell dramatically in the late 20th century when producers were focused on bigger-name grapes, and so the goal of the consortium is to preserve and maintain Grignolino's unique characteristics."
But there are signs that Grignolino may be having its moment. As seminar participant and wine retailer George Cosette, of Silver Lake Wine in Los Angeles observed, "I think it's particularly applicable now because so many people are starting to like lighter style wines rather than heavier wines. The field is open."
The audience agreed this was the most Grignolino they had ever tasted in one session. According to Allison Levine, founder of Please the Palate wine promotion and education firm, "Grignolino is a wine that you only get to taste here and there, very rarely - so to taste eleven Grignolinos at once is a unique opportunity. It was also very informative – Ian is so full of knowledge and humor, I really feel like I have a better sense of what the grape has to offer."
And that's good news for producers of this unsung red, as Consortium President Angelini agreed: "This seminar was very constructive for the producers who were present. The interest in the room was fantastic – and most importantly, those who weren't familiar with Grignolino really got to know this variety."
At 2pm, Dr. D'Agata led an Introductory Level seminar entitled "Are Artisanal Wines the New Italian Icons?" The session highlighted the work of FIVI, The Italian Federation of Independent Winegrowers. The association is composed of winemakers who grow, produce, and bottle their own wine - rather than buying grapes from other growers to sell as their own - following the grape from vine to bottle. They tend to favor grapes that are indigenous to their lands, and use traditional wine-making techniques.
"The greatness of wine is that it should reflect a site-specificity, it should talk of a place," explained Dr. D'Agata. "Among these 850 producers, there are probably about 800 different grape varieties used - so the wines are neither boring nor commonly found elsewhere." The tasting led participants through a flight of eight artisanal wines showcasing the breadth of the Italian wine canon, from Soave to Amarone, Moscato d'Asti to Primitivo. "Everyone loves Barolo and Brunello," said Dr. D'Agata. "But the Vinitaly International Academy's mission is to broadcast the potential of all worthy Italian wines, and allow people to explore the diversity that is the real strength of Italian wine."
A strength, that, by the numbers, has reached record proportions in the US market. As Maurizio Forte, the Italian Trade Commissioner for the US explained, "Our 2015 imports have grown about 20%. We have 31.2% of the market – which makes Italy the biggest supplier of wine to the US - so we need to defend this position. And this is why, year after year, VINO grows and is reinforced by the presence of Vinitaly."
Stevie Kim, managing director of Vinitaly International, explained her goal for an event like VINO 2016: "We're here as ambassadors of Italian wine. Italian producers are among the very best in the world, and yet they are individualistic, and so lack the unified branding of French wine. The Vinitaly International Academy was established to train Italian wine experts across the globe, who can in turn be ambassadors in their own communities, allowing us to have a multiplier effect across the industry in a way that no single producer would be able to do on his or her own."
Constant innovation in wine education and marketing on behalf of Italian wine producers is central that mission, as Stevie explained during a lunch for buyers and importers on Tuesday. "This year at Vinitaly, in addition to holding our second certification course for Italian Wine Ambassadors, we'll hold our first ever natural wine competition, called 'Free Wine: Wine Without Walls,' chaired by acclaimed natural wine writer Alice Feiring."
About:
Veronafiere is the leading organizer of trade shows in Italy including Vinitaly (http://www.vinitaly.com), the largest wine and spirits fair in the world. During its 49th edition Vinitaly counted some 4,000 exhibitors on a 100,000 square meter area and 150,000 visitors including 2,600 journalists from 46 different countries. The next edition of the fair will take place on 10 - 13 April 2016. The premier event to Vinitaly, OperaWine (http://www.vinitalyinternational.com) "Finest Italian Wines: 100 Great Producers," will unite international wine professionals on April 9th in the heart of Verona, offering them the unique opportunity to discover and taste the wines of the 100 Best Italian Producers, as selected by Wine Spectator. Since 1998 Vinitaly International travels to several countries such as Russia, China, USA and Hong Kong thanks to its strategic arm abroad, Vinitaly International. In February 2014 Vinitaly International launched an educational project, the Vinitaly International Academy (VIA) with the aim of divulging and broadcasting the excellence and diversity of Italian wine around the globe. VIA has now also organized its very first Certification Course with the aim of creating new Ambassadors of Italian Wine in the World.
# # #