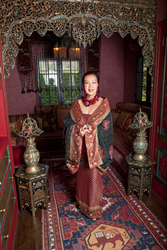 Los Angeles, CA (PRWEB) February 12, 2016
Sue Wong's success story spans the globe, bridging classic panache with modern verve, creating a definitive iconic SUE WONG signature style of femininity, romance and seduction. The designer, coined as the "Everywoman's Couturière" welcomes a new chapter in licensing ventures, implementing her long career of design expertise. Sue will transition from apparel manufacturing and distribution to expand her creative imprint into other modalities. She looks forward to exploring category expansions on an international platform, which will include diverse Fashion classifications as well as Home and Lifestyle. After an illustrious career spanning decades, Sue looks towards the future as a citizen artist of the world to apply her auteur and iconography into other creative genres and mediums. Sue shares, "I've been blessed with an outstanding career to which I have dedicated an entire lifetime of unwavering commitment and hard work, as well as reveling in the pure joy and rapture of creation. I have actualized my visions and dreams in Fashion and wish to segue into licensing expansion. Today I stand as a seasoned artist at the top of my game, being successful beyond my wildest expectations by harvesting the quantum potential of my creativity in Fashion. I am very excited to expand my artistic canvas into other licensing ventures, especially Home, Lifestyle and Interiors for which I have always had a passionate affinity."
The SUE WONG lifestyle brand is exemplified by Sue's three distinctive homes which she deems Body, Mind and Spirit. Sue designed each individual environment to reflect the versatility and range of her design capabilities. THE CEDARS: is a famous 1920's historical Hollywood landmark estate steeped in legendary lore and history; a portal into timeless glamour where SUE WONG Interior Designs awaken a magical experience, a temple of art and haute style. The Cedars has been featured in many publications, including ANTIQUES & FINE ART, IN-STYLE HOME, HELLO, HOLA and LOS ANGELES TIMES. MALIBU ARTHAUS: is an artful minimalist meditation, a soaring loft-like gallery residence of spacious proportions overlooking the panoramic Pacific, housing Sue's extensive collection of Modern Art. Sue designed the floor-to-ceiling architectural configurations and sliding doors which welcome the exterior into the interior in a dramatic, yet organic, modern statement of Yin and Yang, Heaven and Earth -- all reflected through the juxtaposition of beautifully-textured spaces to create a harmony of glass, concrete and wood. HAWAII: Sue's spiritual sanctuary is located on 43 oceanfront acres of spectacular tropical fruit orchards, organic vegetable/flower gardens and lush banana forests which Sue designed in the beautiful pristine rainforests of Kipahulu on East Maui. Her holistic Hawaii property is a solar-powered, self-sustained, ecologically green environment that is a true paradise found. Sue designed this living paradigm of Spirit as a majestic tapestry of exotic tropical beauty.
These three homes exemplify SUE WONG distinctive styles: The Cedars -- decorated in Period Classic opulence; Malibu – celebrating the ultra-modern and avant-garde; Hawaii -- a holistic expression of Asian exoticism, decorated in ancient Khmer/Indonesian/Chinese sensibilities. These three categories lend themselves to a most versatile array in aesthetics and offer many opportunities/modalities in Homeware and Lifestyle.
Sue Wong has received innumerable awards and recognitions for taking Fashion into never-before-seen heights of couture excellence in the commercial arena. She has consistently upheld ground-breaking acumen and high quality in the pantheon of design. Her signature style of haute glamour and romantic vintage aesthetics embody an odyssey of seduction, sensuality, and femininity that invokes and awakens the Goddess within each woman. Sue honors the eternal Feminine Divine through her timeless creations of Beauty, Magic and Alchemy.
The new Chinese Lunar Year of the Monkey 2016 delivers great opportunities for meaningful change and transition. In indomitable SUE WONG style, the designer honors her Asian roots by taking her design mantra of Beauty ~ Magic ~ Transformation into new horizons and beyond. Sue reiterates: "I have enjoyed my lifelong creative work. As one of my favorite teachers of the Twentieth Century, Joseph Campbell taught: 'Follow your Bliss'. My life has been my Art, and my Art is my life."
About SUE WONG
Internationally renowned designer Sue Wong is known for dazzling fashionistas with her couture-inspired glamorous signature style, combining the allure and elegance of iconic bygone eras with a modern sensibility to create timeless works of art. Distinguished by the impeccable quality of traditional couture dress making, her designs are steeped in romance and mystery while being thoroughly modern and accessible to women everywhere. Sue forged new grounds in defining fashion that transcends generations and boundaries even as she creates masterpieces of passion and desire expressed through inimitable style. She has dressed countless celebrities including Anne Hathaway, Jessica Biel, Minnie Driver and Taylor Swift. Having originated from a remote humble village in Maoist China, Sue Wong journeyed to America as a young child and transformed herself into Fashion's arbiter of Style -- a living paradigm of the American Dream.
Licensing Agent: Mark Matheny
Markmatheny@suewong.com
310-990-6959
http://www.suewong.com
Facebook: http://www.Facebook.com/SueWongFashionPage
Instagram: @SueWongFashion
Twitter: @SueWongFashion