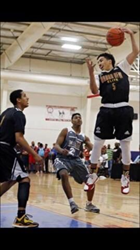 Dallas, Texas (PRWEB) February 12, 2016
Urban Elite (http://www.urbanelitebasketball.com), an organization founded more than a decade ago by Gregory "Jazzy" Hartwell with the goal of providing opportunities for young men who love the game of basketball, has announced that it will begin immediately fielding two premier programs.
Urban DFW Elite, the flagship program, will continue to operate out of Dallas, but include players throughout the Metroplex and south past Waco, Texas. Meanwhile, the next program, Urban ASAK Elite (http://asak.urbanelitebasketball.com/) will include players from Austin to San Antonio and through the Killeen area. Both programs will be sponsored by Adidas.
"Texas is home to the best youth basketball players in the nation," said Hartwell. "For too long, the Central Texas market has been underserved in terms of providing exposure to these young men. We're excited, with Adidas help, to create another platform for getting the word out about these kids."
Mike Murphy, a former star University of Texas basketball player who coached Pflugerville High School in Austin to more than 500 victories, will be the head coach of the Urban ASAK Elite 17U team, and oversee the outstanding coaching staff.
"To join an organization like Urban Elite is a tremendous honor," said Murphy, who coached Central Texas players Jordan Murphy (University of Minnesota) and Rashard Odomes (Oklahoma University) on the Adidas circuit. "The fact that Jordan and Rashard are doing so well as freshmen this year speaks volumes about the current level of high school coaching that these kids are getting and the potential for excellence. We also look for young men, who do it off the court as well as on the court."