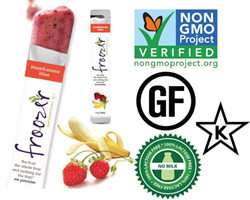 "This is a breakthrough brand that will make a profound difference in the years to come" - Des Hague, Co-Founder of Aegis Enterprises, LLC
Stamford, CT (PRWEB) February 23, 2016
Des Hague, Co-Founder of Aegis Enterprises, invests in Froozer® (http://froozer.com/), deepening the commitment to the health and wellness sector. Froozer® is a Denver-based company producing frozen smoothies that are by far the healthiest in the industry.
"We are delighted with the investment in Froozer®," stated Hague. "The primary goal of Aegis Enterprises is to do good while doing well. Our position in Froozer® delivers firmly on these critical goals. The products are simply the best in the industry without preservatives, additives, sugars or anything else not good for your body added. It is amazing to see the product being produced; the proprietary technology enables the blending of whole fruits and vegetables without addition of juice, water or sugar. The vision of Froozer® is to fuel the world with products that are good for the body, environment and community at large. It does not get better than this and I am delighted to work with the Froozer leadership team to commercialize the brand in the years to come." concluded Hague.
"We are delighted to have someone of Des' caliber and pedigree join the Froozer® family. We are extremely excited about the brand we are creating and know that Des' expertise and connections will add tremendous value," stated Rich Naha, CEO of Froozer®.
About Froozer® - "simple ingredients. real nutrition.™"
Froozer® products represent the pure goodness of freshly harvested fruits & veggies picked at the peak of their ripeness, flash-frozen whole and blended for optimal taste, nutrition and digestion. Natural fruits and veggies in all their glory, nothing added or subtracted, not even a drop of water. Available in three delicious flavors - STRAWBANANA BLISS, TROPICAL SUNSET and BLUE ALOHA - in 6-pack boxes. Look for Froozer® in your local grocery store freezer at selected retail locations in the Denver Area including WholeFoods and Alfalfa's.
For more information: http://froozer.com/
Contact: Rich Naha, CEO
Phone:303-246-1957, Rnaha@Froozer.com
About Des Hague
A renowned executive with over twenty five years of leading global public and private companies, Des Hague has established himself as an innovative thinker in the international business world. His forward-thinking approach pushes companies toward sustainable growth, granting them a position as resilient competitors within their respective industries. Hague most recently was the CEO and President of Centerplate, Inc, the largest event hospitality company in North America. Source: http://deshague.com. Hague also serves on the boards of DVETelepresence, PING HD, WC&P, Lessons For Life, Froozer® and the Stamford Youth Foundation along with advising on several start-up ventures.
Along with his professional projects, Des Hague contributes significant amount of time and energy to non-profit charitable work. Hague has helped raise more than $100 million over the past few years for many non-profits, including the Stamford Youth Foundation, a local organization offering multiple after-school programs for young people, and The Journey Home, a Baltimore-based Foundation fighting homelessness. Hague views Aegis Enterprises, LLC as a perfect blending of business and philanthropic activities.
For more about Des Hague, visit: http://deshague.com
Des Hague - LinkedIn: https://www.linkedin.com/in/deshague
CONTACT INFORMATION
DesHague.com
Email: deshague@aegisenterprisesllc.com