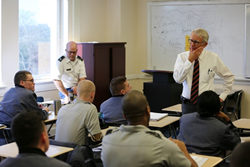 Mayor Riley is widely considered to be one of the most influential mayors in American history.
Charleston, SC (PRWEB) February 13, 2016
After spending 40 years as Charleston's mayor, Joseph P. Riley, Jr., reported to The Citadel just two hours after his last day in office ready and eager to begin the next chapter of his life. Riley, The Citadel Class of 1964, is the first occupant of the Joseph P. Riley, Jr. Endowed Chair of American Government and Public Policy.
Cadets are buzzing about having a nationally-renowned politician and alumnus on campus and enjoy running into him in the halls. "Mayor Riley is widely considered to be one of the most influential mayors in American history," said Cadet Wilson Hope, political science major. "The entire Corps is excited to have such a well-known and respected leader on campus."
Riley retired from office in January 2016, and though he's only been at The Citadel for a month he has already managed to make a large impact. He played a key role in scheduling a Greater Issues Address with internationally acclaimed author and speaker, David McCullough and is guest lecturing in several political science courses. He will also appear as a panelist for a discussion on the Emanuel African Methodist Episcopal Church shooting and the Charleston Strong movement during the 2016 Principled Leadership Symposium in March.
"I am so pleased to have the opportunity to share my experiences over the last 40 years with cadets and students at The Citadel, especially as I used to sit in one of those seats," said Riley. "I will continue to serve the city of Charleston by teaching these young leaders who will one day go out into our community and serve across many different sectors."
Riley will deliver the keynote address at this year's 19th biennial Citadel Symposium on Southern Politics. He will also co-host a talk with Brian Hicks, columnist at The Post and Courier and author of The Mayor: Joe Riley and the Rise of Charleston. The talk will focus on Riley's life and how he led one of the nation's oldest cities through a period of unprecedented growth and development. The discussion will be at 6:45 p.m. on Thursday, Feb. 25, on campus at the Holliday Alumni Center and will be free and open to the public. Pre-signed copies of the book will be available for purchase at the event for $30.
In addition, Riley will remain active in a wide range of public affairs to include his ground-breaking work on behalf of the establishment the International African-American Museum in Charleston.
"The Citadel is proud to have former Mayor Joe Riley return to his alma mater after four decades of leading the city of Charleston," said Citadel President, Lt. Gen. John W. Rosa, USAF (Retired). "He epitomizes the leadership and service before self we seek to instill in our cadets."
The Riley Chair is housed within the Department of Political Science of The Citadel's School of Humanities and Social Sciences. While serving as the chair, Riley will write his memoirs, be interviewed for an extensive oral history of his life and career, lecture on campus and help arrange guest lectures by other distinguished public servants. He will also help to advance the work of the School of Humanities and Social Sciences' newly launched "Riley Initiative" to document and learn from examples of principled, bi-partisan, and effective leadership in pursuit of excellence for the public good.
About The Citadel
The Citadel, a four-year, public college in historic Charleston, S.C., offers a classic military college education for young men and women profoundly focused on leadership excellence and academic distinction. Graduates are not required to serve in the military but about 30 percent of each class commission as officers in every branch of U.S. military service. Graduates of The Citadel have served the nation, their state and their communities as principled leaders since the college was founded in 1842. The Citadel Graduate College offers more than 50 master's degrees and graduate certificates in a wide range of disciplines, plus six undergraduate programs, through an all-evening schedule.