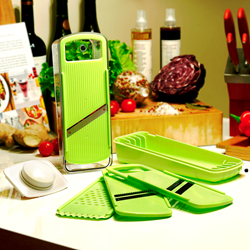 The Blue Key World Mandoline Slicer is a Game Changer in the Kitchen, Helping Cooking to be Faster and Healthier.
(PRWEB) February 17, 2016
The household items manufacturer Blue Key World has released their latest kitchen tool on the online marketplace, Amazon. The founder of the company has stated that their mandoline slicer has experienced a dramatic leap in sales since the release of their newest product video, released this month on the online broadcasting platform, YouTube.
The mandoline slicer is a handy, easy-to-use device designed for slicing and cutting various ingredients, with more precision than alternative products. "Among amateur cooks, the biggest and most easily solved problem in the kitchen is a serious lack of time," stated a company representative. "A mandoline slicer instantly cuts through vegetables with extreme ease, and no necessary practice. With it, chopping and preparing food is made much, much easier."
Vegetable slicers are nothing new on the market, but Blue Key World offers a combination of factors to put it ahead of other products. Firstly, the company stated, they focused on durability. "Our products are in a much more affordable price range than other name brands, but we pride ourselves on long-lasting tools," the representative stated. "Our mandoline slicer is tough enough to withstand the long hours of a kitchen, meaning fledgling cooks and household cooks will easily be able to make use of the product for a long time."
Another factor, according to Blue Key World, is safety. An improperly constructed, low-quality mandoline slicer can be just as easily the cause of an injury in the kitchen. "Our vegetable slicer is constructed with a comfortable grip and its non-metallic parts are made of high-quality plastic, to ensure longevity and avoid a volatile product."
Finally, the company said, their mandoline slicer has a third benefit – guaranteed quality. "We only source high quality steel, so even after heavy use, our mandoline slicer won't give easily. We also ensured that our design would be easy-to-clean, so amateur cooks and professional chefs alike can enjoy a high-quality, sharp experience, all while handling a safe product that won't tear into sponges or pose problems in the dishwasher," the company representative continued.
To celebrate the product's success online, Blue Key World has implemented a special discount for Amazon shoppers. Anyone purchasing the mandoline slicer through Amazon can, for a limited time, save 15% by entering the special promotional code: "MANDOL15" on the Amazon product page. More information on the promotion, and the product itself, can be found through the mandoline slicer's Amazon page.