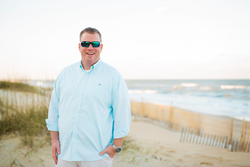 I try to make the process fun, but I'm not afraid to tell them my honest opinion – we're in this together!
Outer Banks, NC (PRWEB) February 15, 2016
With a steadfast dedication to excellence and a lifetime goal to become the best in his profession, Village Realty's Senior Associate Broker Matt Myatt is well on his way to achieving his goal. According to year-end statistics from the Outer Banks Association of Realtors' MLS database, Myatt is the top-producing Outer Banks sales agent of 2015. Looking at sales volume data obtained from OBAR MLS 1-1-2015 through 12-31-2015, Matt amassed more sales volume than any other agent (or team). He completed 46 closings with an impressive total of $26.8 million – also helping Village Realty reach the #1 position in sales volume on the Outer Banks.
A longtime sales agent with Village Realty, Myatt joined the exceptional sales team in 2004, quickly rising in ranks among his fellow real estate professionals. By 2009, he was named Village Realty's "Agent of the Year," a title he has now held for seven consecutive years, including 2015. Having maintained his position with the top 1% of Outer Banks agents since 2009, Myatt has worked hard to strengthen his strategies, achieving most of his challenging professional goals along the way.
He acknowledges the competitive nature of the real estate industry, and explains that the Sales team at Village Realty is truly cooperative. "I trust the agents in my office. We're all competing in the same, aggressive market, but we work very well together." Along with the top sales agents in the business, Village Realty has a resourceful team of dedicated Rental Managers allowing interested buyers to seamlessly launch homes into one of the Outer Banks' most trusted rental programs. Village agents are well-supported with customized marketing and local and national advertising, allowing for maximum exposure of their sales and listings.
For more than a decade, Myatt has helped hundreds of happy homeowners with all their buying and selling needs. Myatt's clients rave about his friendliness, accessibility, and personalized approach to his craft, committing himself earnestly every step of the way. "I try to make the process fun, but I'm not afraid to tell them my honest opinion – we're in this together!" he said. When asked what sets him apart from his colleagues, he replied, "I think I've been successful because my clients get access to ME. I don't list the houses and then hand them off to an assistant. When a client calls, I'm the one who answers the phone and that will never change."
Myatt's deep fondness for the Outer Banks took root during childhood family vacations on the beautiful barrier islands. Relocating to the area from his hometown in New Jersey, soon after graduating from Elon University's Love School of Business, it wasn't long before he met his 'love,' Jenny. Married since 2004, the couple now shares a home in Southern Shores with their yellow Labrador puppy, Shea.
To join the ranks of the many satisfied homeowners who've experienced how easy it is to Buy It With Myatt, contact Matt via his cell phone 252.207.6588 (text friendly), email Matt(at)MattMyatt(dot)com or online at MattMyatt.com. Updated hourly, his comprehensive website features unlimited access to current property listings, including best buys, short sales and foreclosures.
Village Realty is proud to be the Outer Banks' #1 real estate sales firm in 2015, expertly serving the region for more than 20 years. Specializing in premier property sales, vacation rentals and association management, Village Realty offers two locations, in Nags Head and Corolla, where qualified NC brokers are on duty seven days a week from 9am-5pm. For more information, call 800.441.8533 or visit http://www.VillageRealtyOBX.com.