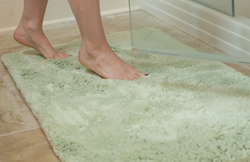 "We are #1 in Customer Service"
Palo Alto, CA February 8, 2016 (PRWEB) February 16, 2016
Grund America of Charlotte, NC has won "Best Of Customer Service" on Houzz®, the leading platform for home remodeling and design. The 25-year old bath rug manufacturer founded in the Czech Republic by the Grund family was chosen by the more than 35 million monthly unique users that comprise the Houzz community from among more than one million active home building, remodeling and design industry professionals.
The Best Of Houzz is awarded annually in three categories: Design, Customer Service and Photography. Design award winners' work was the most popular among the more than 35 million monthly users on Houzz. Customer Service honors are based on several factors, including the number and quality of client reviews a professional received in 2015. Architecture and interior design photographers whose images were most popular are recognized with the Photography award. A "Best Of Houzz 2016" badge will appear on winners' profiles, as a sign of their commitment to excellence. These badges help homeowners identify popular and top-rated home professionals in every metro area on Houzz.
"We are #1 in Customer Service! We just received the "Best of Customer Service" award from Houzz. We are incredibly honored to receive this award by the Houzz community, for our best in class service, something we hold near and dear to us" said Company Vice President and General Manager, Michael Twer. The fact that our customers voted us among the top of Houzz's well respected community of professionals is a testament to our ongoing commitment to provide the highest quality products and service in the bath rug industry. Thank you Houzz!"
"Anyone building, remodeling or decorating looks to Houzz for the most talented and service-oriented professionals" said Liza Hausman, vice president of Industry Marketing for Houzz. "We're so pleased to recognize Grund America voted one of our "Best Of Houzz" professionals by our enormous community of homeowners and design enthusiasts actively remodeling and decorating their homes."
Follow Grund America on Houzz at http://www.houzz.com/pro/grundamerica/grund-america-llc.
About Grund®
Grund® was founded in 1990 as a manufacturer of fine bathroom accessories, specifically bath mats. Since its inception as a family-owned company operating out of the family's home, Grund® has grown into a major textile supplier to the EU nation. Today, Grund® dominates the European home market and currently exports products to more than 40 countries. The company launched the U.S. division, Grund® America at the March 2015 International Home and Housewares Show in Chicago. Please visit http://www.grundamerica.com for more information.