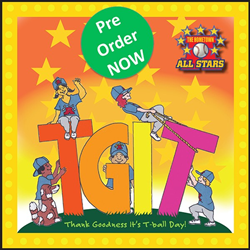 "TGIT was inspired by the actual technique of kids making the letter "T" with their bodies to learn how to throw; it's exactly what the doctor ordered."
New York, NY (PRWEB) February 18, 2016
At the end of a long week of work or school, many people say, "thank goodness it's Friday!" or, "TGIF!" Parents of young readers will now know of a new variation: "TGIT," with the 'T' meaning, "T-Ball Day." Every Tuesday and Thursday, the Hometown All-Stars get to play T-Ball after school- these days, and the lessons children learn during their practice, form the basis of author Kevin Christofora's newest children's baseball book, Thank Goodness It's T-Ball Day.
TGIT is the third book in Christofora's series; in it, the young Hometown All-Stars learn how to pitch. The previous two books, Nick's Very First Day of Baseball and Magic Bat Day, depict the kids having their first ever practice, warming-up and batting for the first time, and of course, learning valuable life lessons along the way.
Christofora, an avid baseball fan and little league coach himself, knows that respect, discipline, and problem solving are just a few examples of skills children can learn playing baseball. TGIT features three specific messages or honor, respect, and community, so that children may learn these important lessons during bedtime as well as on the field.
Says Christofora, "TGIT was inspired by the actual technique of kids making the letter "T" with their bodies to learn how to throw; it's exactly what the doctor ordered." The books also challenge readers with new words, puzzles, and a baseball-thieving gopher that helps build counting skills. In all, Thank Goodness It's T-Ball Day is an extremely educational tome that will become a favorite for children, and their parents.
Kevin Christofora
Christofora, a father and little league coach, hopes his books will inspire children to play outside more often. A devotee of America's pastime, he aims to teach young people about baseball and the habits of a healthy lifestyle in the form of a fun and educational bedtime story.
He has appeared on ESPN Radio, 660 News Radio, Santa Fe - KVSF 101.5, and WDST-FM Woodstock, and has had articles featured in About Families Online, KidzEdge, Mom Blog Society, and several other publications.