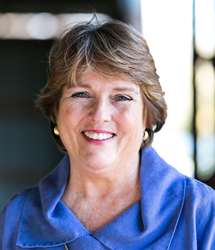 We must create cultures of advocacy in which delineated rights are no longer abstractions.
Washington, DC (PRWEB) February 13, 2016
Creating campus cultures of advocacy rather than avoidance and adversity is the vision of the 2016 Stetson Law University Facilitator Award winner, Dr. Cindi Love, Executive Director of ACPA. Love was the opening keynote speaker at the 37th Annual National Conference on Law Higher Education in Orlando, Florida on February 12, 2016.
When asked why she is investing her time in the work of creating facilitator environments on campuses, she said, "We should never recreate the conditions that led to Kent State and we are at risk of doing so. The issues are different, yet grounded in the same failure of our leadership to listen deeply to the concerns of young adults and to those who feel alienated and disenfranchised by white supremacy, racism, sexism, ableism, gender bias and more within our communities."
The Facilitator Award is given in recognition of the efforts of educators to be proactive about safety and risk management and to develop organization environments that are reasonably safe, educationally relevant and developmentally sound, the principles embodied in "The Rights and Responsibilities of the Modern University" by Peter F. Lake and Robert P Bickel. http://www.amazon.com/The-Rights-Responsibilities-Modern-University/dp/0890896755
Love is the creator of training for inter-disciplinary campus teams entitled "Constructing Cultures of Advocacy: Where Delineated Rights are not Abstractions." Love's objective is to help higher education professionals researchers effectively navigate the highest level of civic engagement the last 50 years in the USA. Love is the former Director of Soulforce, home of the Equality Ride, an activist organization that led many of the student protests on campuses where LGBT students were marginalized for many years. (http://www.soulforce.org). Love said, "I stood on the other side of the police line on campuses where administrators were focused on controlling the headlines more than the suffering of students on their campuses. That experience gave me a deep understanding of what can go very wrong when we are off-center in our values."
One part of the Love's series deconstructs the 100-year build-up to the recent hunger strike at the University of Missouri and the challenges on the Saint Louis University campus, neighbor to Ferguson, following the death of Michael Brown. http://videos.myacpa.org/confronting-the-reality-of-racism
Kevin Eagan, director of the Cooperative Institutional Research Program at the University of California at Los Angeles provides some insight into the rise in student activism from the American Freshman Survey, which collected responses from more than 141,000 first-year students during their first few weeks of college.
"Many of these students, if not nearly all of them, were seniors in high school last spring when demonstrations against hostile campus climates and sexual assault were occurring. And that engagement has continued into the fall, with protests related to the Black Lives Matter movement. That those protests have continued may be, in part, supported by this year's incoming freshman class actually exercising that increased interest." https://www.insidehighered.com/news/2016/02/11/survey-finds-nearly-1-10-freshmen-plan-participating-campus-protests.
Love is the Executive Director of ACPA—College Student Educators International (http://www.myacpa.org) in Washington, DC, a 91 year-old higher education association, which serves professionals in student learning & development. Love is also a member of the Working Group to the US Secretary of State on Religion & Foreign Policy and served as plenary speaker at the final session of the United Nations/UUO Compass Coalition for LGBT Human Rights. She was the creator of the Would Jesus Discriminate Campaign and author of a book by the same title in 2011. https://www.youtube.com/watch?v=Ii5M58_tqUA
She served as a Thematic Country Specialist for LGBT Human Rights for Amnesty International and currently serves as one of 92 content experts for the Global Diversity & Inclusion Benchmarks Project (http://www.diversitycollegium.org/). Love is the former director of Soulforce, an international human rights organization as well as Metropolitan Community Churches, a denomination known as the "human rights church" for its groundbreaking work on LGBT inclusion in the church and within the community of people living with and affected by HIV and AIDS.
Love was an award winning entrepreneur (INC 500 # 73 in 1990) and senior executive in the Fortune 500 TORO Company. Love has been the invited guest of three presidential administrations to events honoring individuals advocating for underrepresented populations.
Contact:
mel@acpa.nche.edu
202-835-2272
ACPA
One Dupont Circle NW
Suite 300
Washington, DC 20036
Stetson University College of Law was established in1900, as the first law school is Florida. It is ranked #1 in trial advocacy and #2 in legal writing education by U.S. News. Stetson leads the nation in blending legal doctrine with practical training. The Center for Excellence in Higher Education Law & Policy is directed by Peter F. Drake, one of the co-founders of the National Conference on Law Higher Education, now in its 37th year of operation.