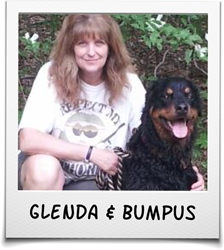 "We received terrific feedback from pet owners through the course of the GlycoFlex Challenge. It was a great way to have a dialogue with our customers and reminds us here at VetriScience why we do what we do!" Adrienne B ~ Assistant Brand Manager
Essex Junction, Vermont (PRWEB) February 17, 2016
VetriScience® Laboratories, the makers of GlycoFlex®, are excited to announce the winner of our GlycoFlex® Challenge Video Contest. Join us in congratulating Glenda Russell from Canfield, Ohio and her beautiful 8 year old Rottie Mix, Bumpus.
The GlycoFlex® Challenge launched in September of 2015 and ran through the end of the year. The Challenge was designed to mimic the independent clinical studies done on our GlycoFlex® joint supplement product. The results of the study showed a 41% increase in the hind leg strength of dogs that were suffering from mobility issues in just 4 weeks. Pet owners that signed up were sent a free bag of GlycoFlex® Plus to run the trial with. The Challenge involved having participants send in a video that showed the challenges their pets faced with joint health issues and, after four weeks to send another video and to indicate if they thought the GlycoFlex® Challenge was a success.
Almost 1,000 pet owners signed up to try GlycoFlex® Plus Hip and Joint Supplement. Participants came from all across the country and offered a tremendous amount of feedback. Thank You to everyone who participated in the challenge. To view Glenda and Bumpus' winning video please check out our YouTUBE channel. If you are interested in learning more about the clinical trial, the GlycoFlex® challenge, or more about GlycoFlex® please visit our website: http://www.glycoflex.com.
GlycoFlex® is recommended for working dogs, senior dogs, active dogs –and any dog in need of advanced joint support. It is formulated to alleviate joint discomfort, support mobility, and address the wear and tear of everyday activity. Originally only available through veterinarians, you can now find GlycoFlex® Plus in a pet specialty store near you.
Our Mission Statement
At VetriScience® Laboratories, our mission is to provide veterinarians with powerful products backed by science to complement traditional therapies. We are committed to using pure and highly researched ingredients in products that are safe, effective, and developed by vets for vets.