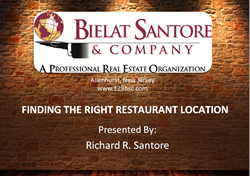 Allenhurst, New Jersey (PRWEB) February 15, 2016
Bielat Santore & Company is hosting the first webinar in a ten part series on Tuesday, February 23, 2016 at 2:30 pm. Based on the company's "Restaurant Tip of the Month" video and blog series, this first webinar will explore the keys to finding the right restaurant location, evaluate the options of buying or leasing real estate and present an overview of the different types of New Jersey liquor licenses.
In addition, the company will showcase three of its substantial inventory of businesses and real estate listings, all within the hospitality industry. Future webinars will provide restaurateurs and those looking to become involved in the hospitality industry with assistance, information and guidance from leading commercial real estate, banking, appraisal, insurance and other industry savvy professionals.
Interested parties should reserve their place for the webinar in advance, available via online or through dial-in capability, using the following link;
http://www.anymeeting.com/PIID=EC53D684884B3F.
Registered attendees will receive a copy of the recorded webinar. Those who already own a restaurant or similar type establishment will be featured in the company's Annual Restaurant Guide.
Bielat Santore & Company's "Restaurant Tips of the Month" can be found on their website http://www.123bsc.com, Hub page, sponsored Jersey Beats & Eats blog page, YouTube channel, as well as in Flipbook format at https://bsc.uberflip.com/i/639366-restaurant-tip-of-the-month.
About Bielat Santore & Company
Bielat Santore & Company is an established commercial real estate firm. The company's expertise lies chiefly within the restaurant and hospitality industry, specializing in the sale of restaurants and other food and beverage real estate businesses. Since 1978, the principals of Bielat Santore & Company, Barry Bielat and Richard Santore, have sold more restaurants and similar type properties in New Jersey than any other real estate company. Furthermore, the firm has secured in excess of $500,000,000 in financing to facilitate these transactions. Visit the company's website, http://www.123bsc.com for the latest in new listings, property searches, available land, market data, financing trends, RSS feeds, press releases and more.