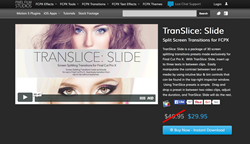 This FCPX Transition is so easy to use and perfect for all editors.
Aliso Viejo, CA (PRWEB) February 17, 2016
TranSlice Slide is a package of 30 screen splitting transitions presets made exclusively for Final Cut Pro X. With TranSlice Slide, insert up to three texts in between clips. Easily manipulate the contrast between text and media by using intuitive blur and tint controls that can be found in the top-right inspector window. Using TranSlice presets is simple. Drag and drop a preset in between two video clips, adjust the duration, and TranSlice Slide will do the rest.
With TranSlice Slide, users can showcase multiple images, text, videos between clips with absolute ease. Drag and drop bisect, trisect, or quadsect transitions between two clips to seamlessly move from one scene to the next.
TranSlice Slide allows users to tint and blur the clip that is being transitioned from. This creates contrast between the text and the video below. Achieve a frosted glass, color solid, or edgy effect using blur, tint, and blend mode parameter controls respectively. All customizable parameters can be found in the inspector window.
Using TranSlice is easy in Final Cut Pro X. Drag a TranSlice preset between two clips in the Final Cut Pro X timeline. Stretch the end of the transitions to extend the duration of the transition. Next, click on the transition add personal media into the designated drop zone areas. TranSlice will do the rest.
TranSlice Slide is made exclusively for Final Cut Pro X. Slide in text, add personal media, and adjust the media below using intuitive controls, all within FCPX.
Established in 2006, Aliso Viejo, California-based Pixel Film Studios is an innovative developer of visual effects tools for the post-production and broadcast community. Their products are integrated with popular non-linear editing and compositing products from Apple FCPX. Apple, the Apple logo, Mac OS X, and Macintosh are registered trademarks of Apple Inc. in the U.S. and/or other countries. All other trademarks and trade names are the property of their respective owners.