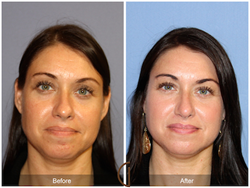 While non-surgical nose jobs are extremely popular, doctors agree that they work best to correct minor imperfections.
Newport Beach, CA (PRWEB) February 23, 2016
Rhinoplasty, more commonly known as a nose job, is an extremely popular cosmetic procedure that can make the nose more symmetrical with the face and more aesthetically pleasing to the eye. However, this type of procedure can be fairly invasive and result in a prolonged recovery.
It is no surprise that a new non-surgical nose job procedure is quickly rising in popularity. This non-surgical, or liquid, nose job involves a skilled plastic surgeon injecting filler, like RADIESSE or Juvederm, into the nose to add volume and smooth any imperfections. According to data from RealSelf, a surprising 96 percent of people who have undergone a non-surgical nose job would recommend it to their family or friends.
Dr. Kevin Sadati, founder of the Gallery of Cosmetic Surgery in Newport Beach, explains that, "the procedure is quick, usually only taking 10 or 15 minutes. Unlike the more invasive surgical rhinoplasty procedure, the non-surgical 'nose job' has minimal recovery time."
Aside from a minimal recovery time, non-surgical rhinoplasty also produces great results. "Patients love that they can immediately see results," Dr. Sadati explains. "The results typically last between nine months and two years. The results are also reversible, so if you do not like what you see, we can dissolve the injectables and, within 48 hours, your nose will be back to its pre-procedure condition. This is a huge advantage over the permanent changes surgery makes."
Though this type of procedure may not be as invasive as a traditional nose job, it still carries some risks. The nose has many delicate blood vessels which can be compromised and lead to skin necrosis if the procedure is not performed properly. According to some studies, the rate of vascular compromise after filler injection is approximately .05 percent. That is about 1 in 2,000 cases. The best way to avoid this risk is to have your non-surgical rhinoplasty performed by an experienced and knowledgeable cosmetic surgeon who can easily navigate nasal anatomy.
While non-surgical nose jobs are extremely popular, doctors agree that they work best to correct minor imperfections. "When injected into the right candidate, a liquid rhinoplasty can even out irregularities, making the nose appear straighter or camouflage a dorsal hump," Dr. Sadati explains. "Although the procedure is technically adding volume with the injection of the filler, the end result is often a nose that visually appears smaller and more symmetrical."
At the Gallery of Cosmetic Surgery, Dr. Sadati has patients who return year after year to keep up with their injections. Others choose to opt for long-term solutions with surgery. While a liquid nose job certainly has its benefits, Dr. Sadati stresses that patients who are looking to correct any nasal obstruction or chronic breathing issues should consult with him about surgery. Unfortunately, non-surgical nose jobs will not help with these types of issues.
Dr. Kevin Sadati is a board certified facial plastic and reconstructive surgeon, as well as an ENT specialist. He offers extensive experience and artistic skill in performing numerous cosmetic procedures. As a diplomate of the American Board of Cosmetic Surgery and pioneer of new procedures, Dr. Sadati is well-respected by his peers and patients. For more information, visit http://www.galleryofcosmeticsurgery.com/.