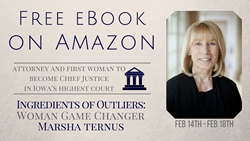 (PRWEB) February 16, 2016
Outliers Publishing announced today that chapter six from Ingredients of Outliers: Women Game Changers is free in eBook format on Amazon.com, today through February 18, 2016. The chapter contains an exclusive interview with Marsha Ternus, the first woman to become Chief Justice in Iowa's Highest Court. The title of the eBook chapter is Ingredients of Outliers: Woman Game Changer Marsha Ternus. The ebook chapter can be downloaded on Amazon.com and sent to any Kindle eReader, smartphone, or device with a free Kindle application.
Published in December of 2014, the eBook profiles the professional journey of former Iowa Supreme Court Justice, Marsha Ternus. Ternus, who graduated with a degree in Home Economics and was working as a bank teller when the thought first entered her mind she could pursue a career in law. Inspired by a female coworker, she thought "If she can do it, I can do it". Her interview focuses on career questions a pre-law or current law school students might ask a professional if given the chance. Ternus shares about being the first woman on her legal firm, what it was like to serve as Chief Justice, and her advice to someone considering a career in law. The chapter also applies to anyone currently deciding their field of study or potential career.
Marsha Ternus is one of the six influential women profiled in the book Ingredients of Outliers: Women Game Changers. The free digital chapter is offered as a way to increase awareness of the book, meant to inspire young adult and professional readers with the stories of six women in various fields who broke gender stereotypes and are paving the way for both men and women.
The Outlier Series contains four published books in various formats and eleven upcoming titles. The series will introduce students, or prospective professionals of any age to insider tips on becoming an outlier in their desired profession. Readers can expect the Outliers Series to cover careers in: medicine, education, law, writing / journalism, health, sports, the arts / entertainment, entrepreneurism / business, music, technology, and service to mankind/ to country. For publishing updates, visit http://www.ingredientsofoutliers.com.
In addition to the Outliers Series books, Outliers Publishing will be launching a Leadership Massive Open Online Courses (MOOC) and a companion book called LeadershipYOU. The concepts shared will help readers and viewers actualize their personal and professional goals. These Leadership MOOCs are projected to be available the summer of 2016.
To learn about future Outliers Series book promotions, visit https://www.facebook.com/readingredientsofoutliers or the Outlier Series blog at http://www.ingredientsofoutliers.com/blog/.
For media inquiries contact apacion(at)ingredientsofoutliers(dot)com.
About the Author
The Series is written by John Shufeldt, MD, JD, MBA, FACEP, who is a practicing physician and attorney, as well as a pilot (both plane and helicopter) and business entrepreneur. He is the Principal of Shufeldt Consulting, MeMD, Outliers Publishing, Shared Mission, and Vice President of Empower Emergency Physicians. Shufeldt is also an adjunct instructor at the Sandra Day O'Connor College of Law where he teaches a clinic on Health Law Entrepreneurism. He serves on the Drake University Board of Trustees and the Sandra Day O'Conner College of Law Alumni Board