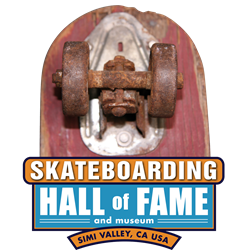 Something special is happening here, and we see social media as an opportunity to share a culture and a conversation that is much bigger than this one night.
Las Vegas, NV (PRWEB) February 16, 2016
Grey Cloak Tech, Inc. (OTCBB: GRCK) announced today that they have been engaged to do a strategic influencer marketing campaign for the Skateboarding Hall of Fame. Established to honor skateboarders and icons that have significantly impacted skateboarding history and culture, the Skateboarding Hall of Fame recognizes their annual inductees at an award show each year. This year's event will add twelve new inductees to the Skateboarding Hall of Fame. They will join the 52 current members including athletes ranging from Patti McGee (cover of Life Magazine, 1965) to Tony Hawk. The event includes a VIP dinner and live show and is slated for May 13th from 6 to 11 PM at the City National Grove of Anaheim. Tickets are available online now through Eventbrite.
"The growth and excitement around the Skateboarding Hall of Fame has been amazing over the past four years," says the Producer of the Skateboarding Hall of Fame, Josh Friedberg. "Something special is happening here, and we see social media as an opportunity to share a culture and a conversation that is much bigger than this one night."
To accomplish this, Friedberg engaged Grey Cloak Tech, Inc., a publicly traded digital advertising and technology firm, to execute an influencer marketing campaign involving hundreds of popular social media personalities to produce live, behind-the-scenes content for the Hall of Fame and its sponsors. "We're excited to see what kind of engagement we can build within the community with the help of Grey Cloak," says Friedberg.
An integral part of that community, Vans has signed on as the title sponsor. "As I approach Vans' 50th anniversary, I am honored to be among this special group of people who support skateboarding around the globe year after year. Vans and I will be bringing some of our golden celebration to the 2016 Skateboarding Hall of Fame Awards for a special evening dedicated to the legends of skateboarding and the future of this incredible sport," says Steve Van Doren, VP of Events and Promotions for Vans.
Additional sponsorship opportunities are currently available. Sponsor packages include digital media impressions and news coverage through Grey Cloak's creative influencer marketing and public relations campaign.
"We're engaging social media influencers to create authentic conversations surrounding the event," says Tina Mulqueen, VP of Marketing for Grey Cloak Tech. "Influencers are hand-selected to ensure their audiences align with the demographic of the skateboarding culture, so that there's inherent social validation inside of these marketing efforts. The result is a sort of social media product placement that is strategically activated by the Hall of Fame event."
Grey Cloak anticipates that a combination of these influencer conversations, in addition to strategic media coverage, will garner hundreds of millions of digital media impressions for the Skateboarding Hall of Fame and its sponsors.
Grey Cloak's influencer marketing offerings were introduced in January as an effort to provide alternative digital campaigns to fraud-riddled pay-per-click advertising, an issue that the company sought out to resolve last year with their proprietary Fraudlytic technology. Fraudlytic tracks and eliminates hundreds of permutations of digital advertising fraud. The Interactive Advertising Bureau projects a combination of malicious digital advertising practices will cost advertisers $8.2 billion annually.
For more information or to learn about Skateboarding Hall of Fame sponsorship opportunities, contact Tina Mulqueen.
About Grey Cloak Tech
Grey Cloak Tech is the premier provider of software solutions that identify, track and eliminate digital advertising fraud. Its innovative, proprietary technologies help companies filter inaccurate click and impression data, detect non-human online traffic, block bogus online form submissions and expose counterfeit clicks and video views.
It is the only publicly traded digital advertising fraud-protection company in the United States. Its shares are listed and traded on the OTC exchange under the symbol: "GRCK."
Forward-Looking Statements
This release contains forward-looking statements within the meaning of the SEC. Statements that do not describe historical facts constitute forward-looking statements and may, but not always, be identified by use of such words as "expects," "anticipates," "intends," "estimates," "plans," "potential," "possible," "probable," "believes," "seeks," "may," "will," "should," "could," or the negative of such terms or other such expressions. Investors are cautioned not to rely unduly on these forward-looking statements, which speak only as of the date hereof. All forward-looking statements are qualified in their entirety by this cautionary statement and Grey Cloak Tech undertakes no obligation to revise or update this release to reflect events or circumstances after the date hereof.
For more information, visit http://www.GreyCloakTech.com.