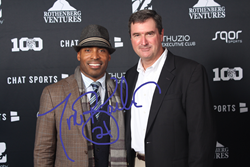 St. Petersburg, Florida (PRWEB) February 17, 2016
Autography LLC announced today it is a finalist for the 2016 Sports Technology Awards in the category of Best Fan Engagement. Winners will be revealed on 15th April in London, England at a lunchtime ceremony to be attended by over 500 senior industry figures as well as current and former athletes.
Rebecca Hopkins, CEO of the awards explained, "This has been another exciting year for sport and technology continues to influence all facets of the sector to an exponential degree. We are delighted that, once again, as well as the biggest brands in sport, our finalists also include the most inventive tech start-ups, the vision of which means that they are equal in their ability to win in any category."
Autography recently made Super Bowl 50 in San Francisco even more memorable for some very lucky fans. At the Big Game Party hosted by the Thuzio Executive Club and co-sponsored by Autography, fans lined up to have pictures taken, personalized, and immediately sent by notable former players including Tiki Barber, courtesy of Autography's patented and award-winning technology.
"The event was casual, as opposed to scheduled and scripted, so people saw our technology at work and queued up on their own to experience it. It was great to see fans embracing the technology and understanding its awesome potential for connecting with talent in such an authentic and personal way," said Autography CoFounder Tom Waters.
About Autography LLC
Autography® is a marketing technology firm that transforms fan engagement by enabling talent to Reach, Reward, and Retain fans like never before. The technology is powered by a SaaS enabled platform that includes digital authentication and personalization, combined with analytics that offers a one-stop-shop for fan relationship services, loyalty programs, and fan behavior modeling. http://www.autography.com
About the Sports Technology Awards
The Sports Technology Awards celebrate the vital role technology plays in sport; the awards are unique globally and represent an international mark of excellence. Included in the shortlist are the BBC, Hawkeye, NASCAR, the Rugby World Cup, the WTA, the NBA and ASICS, the work of which is celebrated across categories including best app, partnership and concept, as well as work by sponsors, tournaments and broadcasters. http://www.sportstechnologyawards.com