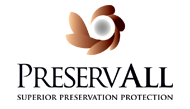 Branchburg, NJ (PRWEB) February 16, 2016
Representatives from PreservALL (http://www.preservall.com/) have announced that it has an incredibly advanced way to keep everything from documents to garments safe from the wear and tear of time. The Intercept Technology™ used by the company has garnered worldwide attention, and several awards.
"Just a few short years ago, Volkswagen South Africa received a very important environmental award from the Eastern Cape Region Chamber of Commerce. They won this award because they used Intercept Technology in their packaging to save on the use of oils and make clean-up and disposal more eco-friendly," said PreservALL company partner Chris Della Valle. "In addition to reducing carbon emissions and helping the world to be a greener place, the use of Intercept Technology helped the South African manufacturer cut down on costs."
In previous years, Intercept Technology was also awarded the German Environmental Prize for "New Environmentally Safe Methods for Corrosion Protection" for INTERCEPT products. With over 2000 applicants, this recognition is very special.
"Intercept Technology is a game changer," says Chris. "It is really making an impact around the world. That is why PreservALL is so happy to offer products that use this safe, non-toxic, environmentally friendly and cost-effective packaging. With Intercept Technology, nobody has to choose between protecting the items they love with dangerous chemicals or letting their precious memories degrade into ruin."
PreservALL looks forward to developing and retailing more products enhanced with Intercept Technology. To learn more about PreservALL, visit https://preservall.com/about_us and https://preservall.com/Shop-Now.
About PreservAll
We offer preservation and corrosion prevention packaging and storage products for garments, firearms, documents, quilts/tapestries, hunting and camping equipment, coins, antiques and collectables. Our products use Intercept Technology™, an environmentally friendly technology that does not coat items or leave detectable deposits on items it protects. Intercept is not a VCI (volatile corrosion inhibitor). Intercept is a reactive technology unlike other products that work passively. Intercept absorbs and neutralizes corrosive gasses that lead to corrosion and breakdown of materials such as fabrics, ferrous and non-ferrous metals, stamps, comic books, documents and anything else affected by atmospheric degradation.
Contact Details:
Mr. Chris Della Valle
600 Kenrick Dr., Suite C-40
Houston, TX 77060
Ph: (713) 822-9040
Fax: 908-526-0007
Source: PreservAll
###