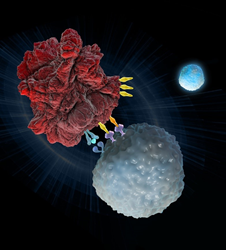 One might say that I-O was not just the oncology story bur rather the medical story that went viral in 2015, writes Bruce Feinberg, DO
PLAINSBORO, N.J. (PRWEB) February 17, 2016
When Evidence-Based Oncology devoted an issue to immuno-oncology (I-O) a year ago, the field was in its infancy, and in many ways that's still true.
But as author Bruce Feinberg, DO, writes in the current issue, "One might say that I-O was not just the oncology story but rather the medical story that went viral in 2015." I-O made magazine covers, was named the "Advance of the Year," by the American Society of Clinical Oncology, and got credit for eliminating President Jimmy Carter's brain tumor.
Immuno-oncology agents stimulate the body's immune system to fight cancer cells; current classes include the cytotoxic T-lymphocyte–associated protein 4 (CTLA-4), programmed cell death 1 (PD-1), and programmed death ligand 1 (PD-L1) antagonist. With three therapies on the market and 37 in the pipeline, I-O was worthy of another look.
The current issue of Evidence-Based Oncology, a publication of The American Journal of Managed Care, revisits this exploding area of cancer care from its historical roots to its current challenges and opportunities. For all the promise of I-O, an important theme this year is the daunting cost of treatment, which can easily exceed $100,000 a year and push families toward bankruptcy.
Among the highlights of the current issue:

EBO Editor in Chief Joseph Alvarnas, MD, offers his perspective on the evolution of I-O—that the promising therapies are not the result of sudden discoveries, but decades of painstaking work by many scientists. "Although rhetorically, the image of a 'moon shot' may embolden us as a nation to invest more aggressively in pursing new technical avenues in the war on cancer, the growing availability of effective immunotherapeutic agents shows us that the solutions are much closer to home," he writes.
About the Journals and AJMC.com
The American Journal of Managed Care is the leading peer-reviewed journal dedicated to issues in managed care. AJMC.com distributes healthcare news to leading stakeholders across a variety of platforms. Other titles in the franchise include The American Journal of Accountable Care, which publishes research and commentary on innovative healthcare delivery models facilitated by the 2010 Affordable Care Act. AJMC's Evidence-Based series brings together stakeholder views from payers, providers, policymakers and pharmaceutical leaders in oncology and diabetes management. To order reprints of articles appearing in AJMC publications, please call (609) 716-7777, x 131.