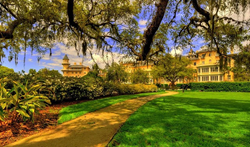 We've been very fortunate to see growth in our annual conference, year after year, which is a testament to the expanding nationwide relevance of the telehealth industry
Waycross, GA (PRWEB) February 16, 2016
Georgia Partnership for TeleHealth (GPT), a charitable nonprofit promoting the establishment of telemedicine programs in communities throughout Georgia, announces it will hold its Seventh Annual Spring Conference March 2-4, 2016 at the Jekyll Island Club Hotel in Jekyll Island, GA.
This year's conference theme, "The Innovation Edge of Everything," will bring together top telemedicine minds to discuss the ever-evolving technologies shaping the telehealth industry. Those interested in learning more about telemedicine are invited to attend, including healthcare providers, IT professionals, telecom providers, hospital administrators, school-based health professionals, government policy advisors and medical mission group representatives.
"We've been very fortunate to see growth in our annual conference, year after year, which is a testament to the expanding nationwide relevance of the telehealth industry," states Rena Brewer, CEO of GPT. "As a matter of fact, GPT had a record year in terms of partner growth in 2015, welcoming 76 new partners. The advancements in the telehealth industry is what makes hosting our annual conference so exciting. It's truly amazing to have so many like-minded industry innovators under one roof discussing the strides we have made and those yet to come for telemedicine."
To register for the conference and find more information on the attendee fees and hotel accommodations, please visit the conference website.
About Georgia Partnership for TeleHealth
Georgia Partnership for TeleHealth is a charitable nonprofit corporation, which was formed to promote improvements in healthcare and healthcare facilities in communities by assisting in the establishment of telemedicine programs. GPT is known as the leading agency globally focusing on increasing access to healthcare through innovative use of technology. GPT is one of the entities that belong to the Global Partnership for TeleHealth.