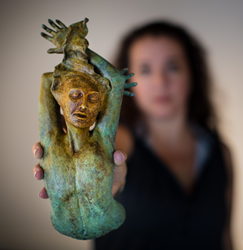 Carolina's art is an inspiration to all employees at MSI and emphasizes the importance of a health work life balance, something we encourage at MSI
Hampton NH (PRWEB) February 18, 2016
As head of MSI's Global Immigration company, Carolina has grown the business into one of the leading corporate global Immigration practices. In her spare time, Carolina is a prolific artist, specializing in dramatic sculpture.
Born in Venezuela, Carolina Rojas' studio is in Miami Wynwood Art District at BakeHouse Art Complex. She produced a large number of sculptures of great artistic vision,original content, and unprecedented style.
"There is a precision in her sculpture that is undeniable, a precision that is the very essence of her work. Like a scientist she analyzes the exact proportions and measurements of the formal idea, which she is projecting into new manifestations. Every aspect of the form is important, the choice of the material, the look of the surface. For Rojas, the technical aspects of the sculpture are directed toward a sensory meaning that becomes a metaphor of existence in time and space. In this sense, the precision of Rojas's art is like a journey through some unknown metaphysical reality where the substance of life is explored and investigated, pulled apart and reconstituted. It is a purposeful equivocation poised between the physical and the metaphysical that endures in the sculpture of Carolina Rojas – welcome at planet peace."... Dr. Barbara Aust-Wegemund
Carolina's bronze sculptures are now in private collections throughout the United States, Venezuela, China, Mexico and Spain. http://www.carolinarojas.com
"Carolina's art is an inspiration to all employees at MSI and emphasizes the importance of a health work life balance, something we encourage at MSI" commented Timm Runnion, MSI's CEO.
About MSI
The Global Talent Solutions Company®
MSI – the leading provider of global talent solutions to corporations worldwide. Through the alignment of our global mobility solutions (including global compensation and immigration services), talent management capabilities, and global expansion services, we enable companies to grow, compete, and globalize by helping them strategically develop, mobilize, and retain their talent.
This alignment between global mobility, talent management, and global expansion services is increasingly critical as corporations face mounting challenges with regard to employee recruitment and retention in today's competitive marketplace. MSI focuses on delivering services that yield measurable outcomes to both the employee and the business.
Our highly skilled and service-oriented workforce, and tri-regional operation centers located in the Americas, EMEA, and Asia Pacific, allows MSI to provide a one-stop solution for talent mobility in over 190 countries and territories.
Winner of HRO Today Magazine's "Baker's Dozen Customer Satisfaction Ratings: Relocation – 2015"
Winner of the Americas EMMA award for "Relocation Management Company of the Year 2014."
Winner of the Re:locate Magazine Award for "International Service Provider of the year 2013."
For more information on MSI, please visit: http://www.msigbs.com
Contact:
Nick Royle – Vice President, Marketing & Communications
MSI – Mobility Services International
+1.603.274.9100