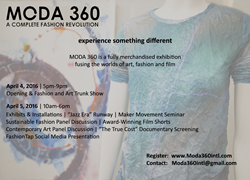 Moda 360 gives designers, filmmakers and artists freedom to experiment, collaborate and innovate in the presentation of their work. Moda 360 gives independent creatives a platform for their voice to be heard.
Los Angeles, CA (PRWEB) February 17, 2016
Moda 360 is a fusion of art, fashion and film, incorporating exhibits and live presentations and encouraging collaborations between the three creative industries. The event, concurrent with Majors Market Week, presents fashion as art, and art as lifestyle, and gives international, independent designers, artists and filmmakers a platform to present their work to industry professionals, press, buyers and the public. Retailers and galleries have the opportunity to discover international independent fashion designers and artists in a relaxed, creative setting.
Talented artists from the Los Angeles Art Community exhibit their work alongside designers from Colombia, Malaysia, Indonesia, UK, US, Canada, with a group of UK designers creating the "Best of Britain" exhibit. Moda 360 features contemporary art and fashion and offers clothing, accessories, fine and semi-precious jewelry and a few exciting premieres (fashion made from money? prism jewelry?) for sale during a trunk show each day.
The 2016 event at the New Mart expands its program to include a line-up of seminars, films and runway presentations of interest to both professionals and public. Fashion videos by filmmakers from 22 countries will screen continuously on monitors at the event. A screening of short films is scheduled, including award-winning fashion shorts by Spanish filmmaker Victor Claramunt and documentary shorts by American director Shawn Butcher and London filmmaker Marcelo Vianna, who will introduce their films. A feature presentation of "The True Cost" film by Andrew Morgan and produced by Livia Firth explores sustainability in fashion and will be complemented with a panel discussion of designers Lucy Tammam (UK), Juan Pablo Martinez (Colombia) and Sasibai Kimis (Malaysia) on the global ethical fashion movement.
Karen Randal, CEO of ReImagined and former Director of the Office of Business Attraction and Retention and Director of Sustainable Initiatives for the City of Philadelphia, is speaking on the current movement to bring back local manufacturing. She will discuss the importance of the Maker Movement, not just in creating jobs, but also in spurring the growth of independent and artisanal designers and makers. Karen will discuss her unique approach in helping local Philadelphia makers connect with manufacturers to produce their goods as they grow their businesses, and the value these makers bring to the retail and consumer market.
Amy Roiland, Los Angeles blogger and CEO of Fashion Tap, is presenting her new social media fashion app doubling as a social network for the fashion industry, connecting bloggers, retailers, consumers, brands and designers. The app allows users to upload fashion items of interest and photos are transformed into shopping sites where items can be tapped and purchased, and the poster of the item receives a percentage of the sale.
Always pushing the envelope, Moda 360 is featuring a "Jazz Garden" runway presentation styled by Linger Magazine with a garden set created by Silver Birches, a Los Angeles event planner and florist. Moda 360 is their next stop after creating spectacular design for the Clive Davis Pre-Grammy party and the Jeffrey Katzenberg Oscar party. The runway promises a vintage ambiance with contemporary elegance, spotlighting modern pieces from participating designers that draw inspiration from this stylish era.
The Tuesday program will conclude with a lively discussion by participating artists, touching on their inspiration and the translation of those ideas to their work, and the practical ups and downs of creating art and bringing work to the commercial market.
Moda 360 promises an eclectic program representing three creative industries and presenting the ideas, inspiration and ethics that drive the independent artist, designer and filmmaker forward in their career. Moda 360 shows the best of contemporary creation, and gives a look behind the art to show the contribution these talented exhibitors offer the commercial and cultural market. Registration for the event is open.
About Bel Esprit - The Bel Esprit Showroom showcases international designers of ethical fashion, and the sister showroom, Showroom International, presents the collections of international independent designers. The showrooms offer 30 years of industry experience identifying and assisting the needs of both designers and retailers to facilitate a strong business relationship, and partner with international fashion industry organizations and events to give independent designers maximum exposure. Bel Esprit promotes ethical principles through education to designers, retailers and consumers, and, through a number of global initiatives, works to create and develop more ethical resources for the fashion industry. Learn more at http://www.BelEsprit.net
About the New Mart - The New Mart Building, a registered Los Angeles historical landmark located in the center of Downtown LA's fashion district, is home to 100+ showrooms representing hundreds of top lines. With both high profile and cutting edge showrooms – The New Mart is the most sought after venue for wholesale fashion buyers from around the world. Learn more at http://www.newmart.net
About bel essence - Bel Essence is a natural skin care collection based on a simple idea: give skin the nutrition it needs to heal, regenerate and rejuvenate itself. Bel Essence combines natural and organic oils that are the richest sources of vitamins, antioxidants, omega 3's and fatty acids, the essential components for healthy, youthful skin. Bel Essence gives skin what nature intended and selects and combines oils with beneficial properties to maximize results without harmful chemicals and colorings.