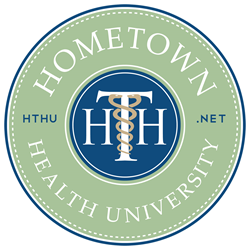 Healthcare professionals need CEUs for licenses and accreditation - HTHU is proud to offer a wide variety of topics for healthcare workers to choose from.
Atlanta, Georgia (PRWEB) February 18, 2016
HomeTown Health, LLC has been a recognized Authorized Provider of IACET CEU's since 2011. Since then, HomeTown Health has focused on the creation and disbursement of pertinent healthcare related industry, compliance and best practice education for healthcare professionals nationwide.
Through the collective schools of education available on http://www.hthu.net, HomeTown Health University offers a wide variety of courses ranging from Revenue Cycle Management courses for Patient Access, Billing, Financial Counselors and Customer Service professionals to Staff/Clinical Compliance courses including HIPAA, EMTALA, OSHA; Long-Term Care courses including Resident's Rights, Meeting the Needs of Elder Patients; Nursing CE courses, Management and Leadership, Health IT and many more.
Among the many licensed professionals in the healthcare field that require continuing education, the following professional organizations and licensure boards currently accept IACET CEUs and thus education offered through http://www.hthu.net:
Respiratory Therapist: American Association of Respiratory Therapy
Occupational Therapist: American Occupational Therapy Association, National Board for Certification in Occupational Therapy, Inc. (NBCOT)
Physical Therapist: American Physical Therapy Association,
Lab Professionals (such as clinical laboratory directors, managers, supervisors, hematologists, immunologists, educators, clinical chemists, microbiologists, & phlebotomists): American Society for Clinical Laboratory Science
Nurses - RN & LPN: Georgia Board of Nursing, State of Massachusetts, Board of Registration in Nursing, State of Ohio, Board of Nursing, State of Montana, Board of Nursing
Pharmacists and Pharmacy Technicians: The American Council on Pharmaceutical Education
Human Resource Professionals: Society for Human Resources Management (SHRM)
First Responders and EMTs: National Registry of Emergency Medical Technology, Team Extreme EMS/RedCross, Federal Emergency Management Agency
Providers/Practitioners: The American Association of Integrative Medicine
Professional Counselors: The American Psychotherapy Association
In addition to nationally recognized organizations, several state boards also recognize IACET CEUs such as those offered by HTHU, including:
State of Oklahoma, Board of Medical Licensure and Supervision
State of Tennessee, Department of Health
State of Nevada, Board of Physical Therapy Examiners
State of Georgia Board of Nursing
State of Massachusetts, Board of Registration in Nursing
State of Montana, Board of Nursing
State of New York, Department of Speech Pathology
State of Ohio, Board of Nursing
Outside the realm of professional agencies and companies, many colleges, secondary training universities and education programs accept the IACET CEUs. A full list can be found at http://www.iacet.org/who-accepts-the-iacet-ceu-g-see-a-list. CEUs may be subject to additional review by that specific company, board, or organization, so it is in the best interest of the student to verify their individual expectations.
In addition to providing IACET CEUs, HomeTown Health is also an authorized provider of NAB (National Association of Long Term Care Administrator Boards) for live event trainings, and FACHE (Education for ACHE Fellows- Healthcare Executives) for live events for qualified face-to-face seminars as approved by The American College of Healthcare Executives.
About HomeTown Health, LLC: HomeTown Health, LLC is a network of rural hospitals, healthcare providers, and best practice business partners who collectively pursue ways to help its members survive in this environment of constant change in reimbursement, operations and technology. HomeTown Health, LLC is committed to providing legislative representation, best practice solutions and continuing education and training through research and the continuous improvement of processes for healthcare providers.
About IACET: The International Association for Continuing Education and Training (IACET) is a non-profit association dedicated to quality continuing education and training programs. IACET is the only standard-setting organization approved by the American National Standards Institute (ANSI) for continuing education and training. The ANSI/IACET 1-2007 Standard is the core of thousands of educational programs worldwide. For more information, please visit http://www.iacet.org.