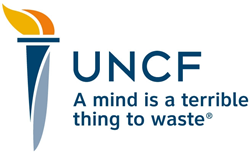 Cleveland, OH (PRWEB) February 16, 2016
The Cleveland local office of UNCF (United Negro College Fund) will host its Leaders Luncheon on Education on Feb. 19 featuring a panel discussion on "Educating the Next Generation of Leaders". Panelists include: Eric Gordon, CEO Cleveland Metropolitan School District, Dr. Alex Johnson Ph.D., president Cuyahoga Community College and Timothy Roberts Sr., head of schools HBCU preparatory academy. This year's Torchbearer award will be presented to Margot Copeland, executive vice president Corporate Diversity & Philanthropy at KeyCorp, for her dedication in providing Cleveland students with educational resources.
Maxie C. Jackson III, station manager of 90.3 WCPN, will serve as the Master of Ceremonies. Key sponsors include: AT&T, Key Bank and OMNOVA Solutions.
Who: UNCF Cleveland Office
What: UNCF Cleveland Leaders' Luncheon on Education
When: Friday, February 19, 2016, 11:30 a.m.-1:00 p.m.
Where: Westin Cleveland Downtown, 777 St. Clair Ave. NE, Cleveland, OH 44114
To purchase tickets, which are $75 or for more information, please visit http://give.uncf.org/clevelandleaderslunch
About UNCF
UNCF – (United Negro College Fund) is the nation's largest and most effective minority education organization. To serve youth, the community and the nation, UNCF supports students' education and development through scholarships and other programs, strengthens its 37 member colleges and universities, and advocates for the importance of minority education and college readiness. UNCF institutions and other historically black colleges and universities are highly effective, awarding 20 percent of African American baccalaureate degrees. UNCF administers more than 400 programs, including scholarship, internship and fellowship, mentoring, summer enrichment, and curriculum and faculty development programs. Today, UNCF supports more than 60,000 students at over 900 colleges and universities. Learn more at UNCF.org.