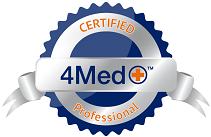 Chicago, IL (PRWEB) February 19, 2016
4Medapproved.com, the definitive training resource for Health Management and Health IT Professionals will be returning to this year's 2016 HIMSS Conference & Exhibition in booth #13329-5 near University Row and the Career Resources Center. Taking place Feb 29- Mar 3 at the Venetian Sands Expo Center in Las Vegas, the conference will host over 40,000 healthcare industry professionals and feature exhibitors showcasing cutting-edge technology and innovative solutions with the goal of improving healthcare career opportunities.
4Medapproved will highlight their professional online training and certifications in healthcare IT and compliance areas including Meaningful Use, HIPAA and ICD-10, among others. Courses are designed to meet the needs of busy healthcare management and HIT professionals with online practical lessons that apply to real-world health IT and compliance issues. The 4Med educational approach leverages the 10/10/10 learning method which incorporates online text lessons, multimedia content, and assessments, along with hands-on practice sessions utilizing cloud based tools and solutions. Self-paced courses are fully modular, allowing students to learn at their own pace from any location. Live webinar workshops are designed to accelerate the certification process and provide students with access to a skilled live instructor.
In addition, we are excited to announce the upcoming release of the HealthIT iBookPlus online tool which will be available for demo at the show.This handy iBookPlus online tool carries a wealth of dynamic titles, updated in real-time, giving students current Health IT, Regulatory and Safety learning, compatible with any PC/MAC, iPad or portable device instantly.
Courses are accredited with continuing education units (CEUs) for nurses, college students, coders and billers and CME for physicians for select courses.
All booth visitors will receive an ultralight insulated 4MED+ lunch bag to highlight the 2016 4Medapproved Learning Lunch Series and will be entered in a RAFFLE to win one of more than a hundred NEW HIPAA Staff Level Training courses, one of the most popular 4Medapproved titles.
"We are pleased to exhibit at the 2016 HIMSS event," says Wendy Whitmore, Chief Learning Officer at the 4MedPlus Corporation. "This conference appeals to the most engaged professional audiences in health IT and we look forward to showcasing our programs to the conference attendees."
The annual HIMSS conference is one of the nation's largest healthcare management gatherings. For more information about the HIMSS Conference exhibitions, sessions and speakers, visit http://www.HIMSSCONFERENCE.org
About 4Medapproved
4Medapproved is the leading provider of online Health IT education, with online courses in Meaningful Use/MIPS/MACRA, HIPAA, ICD-10, EHR proficiency and more. 4Medapproved makes these courses available through an extensive network of partners to offer training to providers and IT professionals. Healthcare industry professionals are able to meet their educational needs entirely online, on their own schedule. Students learn through a combination of text lessons, video reviews, and assessments that culminate in a final exam. Courses are accredited for CEUs and college credit. For more information, visit http://www.4medapproved.com. The 4MedPlus Corporation is based in Chicago, IL.