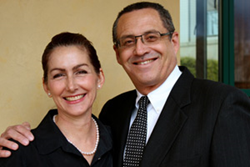 SANTA ROSA, CA (PRWEB) February 17, 2016
Francisco Canales, MD and Heather Furnas, MD now bring their Napa Valley patients the anti-aging HydraFacial MD. The unique rejuvenating treatment brings essential nutrients to facial tissues through a process of deep cleansing and exfoliation. Unlike other non-surgical treatments, the HydraFacial can be customized to meet each individual's needs.
HydraFacial MD is a breakthrough in skincare. Utilizing the patented Vortex-Fusion serum delivery system, HydraFacial MD thoroughly removes dirt and dead skin cells, before providing rich antioxidants to tissues. The customizable process calms acne-prone skin, and provides consistent improvement for lines and wrinkles. Skin tone and areas of uneven pigmentation can also improve with the HydraFacial system.
A combination of five steps are included in the HydraFacial process; guaranteeing dramatic results. The treatment includes a Vortex-Exfoliation, Vortex-Peel, Vortex-Extraction and Vortex-Fusion performed in-office, as well as an extend and protect step for home. Requiring no downtime, HydraFacial MD is fast and safe for all skin types.
Prior to the application of the HydraFacial, a complete skin evaluation will be performed at Plastic Surgery Associates. At this time, the skin's condition will be determined, including the severity of sun damage, acne, and wrinkles. During this appointment, Dr. Canales and Dr. Furnas will decide if the HydraFacial can achieve the patient's aesthetic desires.
The HydraFacial fills an important need to significantly improve the skin's appearance noninvasively, bringing a patient added self-confidence. "In our experience, patients concerns are rarely about vanity," Dr. Furnas explains. "Sometimes (these) changes can give our patients the boost that changes their lives."
With more than 25 years of plastic surgery experience each, Dr. Canales and Dr. Furnas are considered top aesthetic providers in Napa Valley and Marin County. Both Board Certified surgeons are members of the elite California Society of Plastic Surgeons, the American Society of Plastic Surgeons, and the American Society for Aesthetic Plastic Surgery.
Those looking to improve their appearance without the downtime from an invasive procedure may make an ideal candidate for the HydraFacial. Contact Plastic Surgery Associates for more information on the HydraFacial MD, or to set up a complimentary consultation with Dr. Canales or Dr. Furnas. Plastic Surgery Associates office is in beautiful Santa Rosa, California, conveniently located about 35 miles north of Napa.
Contact:
Dr. Francisco Canales and Dr. Heather Furnas
Plastic Surgery Associates of Santa Rosa
4625 Quigg Drive
Santa Rosa, California 95409
707.537.2111
http://www.enhanceyourimage.com