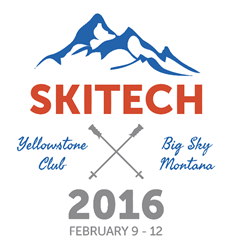 More excited then ever to be in the TechFin space.
Atlanta, GA (PRWEB) February 16, 2016
SkiTech, the most exclusive event for payments and financial services innovation, today announced the success of their second annual gathering on February 10 -13, at the Yellowstone Club in Big Sky, MT. This year's SkiTech brought together 50+, C-Level, executives, making it the world's largest ski-oriented, FinTech gathering. The event kicked off at the home of Greg Daily, i3 Verticals, where the proprietors of Vine Cliff Wine showcased rare portfolio vintages. This was followed by a full-day of innovative and thought provoking discussions, such as creating a new and elite category for the financial technology space, now referred to as "TechFin".
Jeremy Wing of Payscape, echoed from the 9,800 ft. summit of Spanish Peak that he was "more excited then ever to be in the TechFin space." He went on to thank Bob Hyer saying, "SkiTech could not have achieved this gnar momentum without the team at Houlihan Lokey, we appreciate the relationship we have with the firm and thank them for all of their support."
The highlight of the event was the annual Giant Slalom Competition, with executives skiing back-to-back in elimination rounds to determine the overall winner. Todd Ablowitz of Double Diamond Group, redeemed himself from a razor-thin, 2015 defeat and found himself on the podium donning the Armada Platinum Jacket Award. Buzz Stryker of POS Portal and 2015 slalom champion said, "the coveted Platinum Jacket was well won. Todd's cool demeanor at the race starting gate barely masked the intensity built up over a year of hard training and equipment experimentation. Todd provided the spectators and colleagues a memory they won't be able to forget for some time." The race was not without controversy and questions about illegal equipment and possible performance enhancing substances swirled around the Yellowstone Club. Todd was unavailable for comment, but his finish line coach stated "Todd can only be accused of having a questionable sense of style. My role, along with Todd's other six coaches, has always been to inspire him to be the best he can be by focusing on training, nutrition and innovations in equipment and sports science. I'm proud of Todd's victory and don't want to tarnish the moment for him and his family."
For invitation details, please contact alex.morgan(at)payscape(dot)com or sign-up for future updates here: http://eepurl.com/bJrELf.
About SkiTech
SkiTech is an annual gathering of C-level executives in the payments and financial service industry. The group of individuals are at the forefront of innovation for connected commerce and have expertise in mobile, retail, marketing services, data, banking and technology. In just two years, SkiTech has fundamentally disrupted the standard industry conference and created an environment where operators have the ability to conduct meaningful conversations in a casual environment. With a finite group of attendees, responsible for billions of dollars in revenue and limitless innovation. The third annual event is scheduled for 2017, once again, at the Yellowstone Club located in Big Sky Montana. To stay connected, please visit http://www.skitech.org or follow us on Twitter at @SkiTechFinTech.