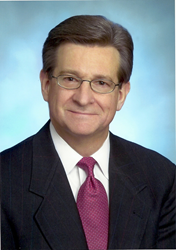 (PRWEB) February 24, 2016
Accumen, a healthcare transformation company, announced that Alan Yordy will serve as their Strategic Growth Advisor. In this role, Yordy will be responsible for cultivating new relationships and advising on growth strategies that will help Accumen accelerate breakthrough performance for health systems.
"Alan's deep healthcare knowledge and experience, understanding of the opportunities and challenges health systems are facing, will further strengthen our value-based approach for partnering with health systems," said Jeff Osborne, President and Chief Executive Officer. "Throughout his career he has many accomplishments in improving hospital and healthcare systems, there is no doubt he will assist Accumen in profoundly transforming healthcare."
Mr. Yordy has over 35 years of experience in the healthcare industry. His most recent position was President and Chief Mission Officer at PeaceHealth, a healthcare system in the northwest that owns and operates eleven hospitals, one of the nation's largest regional medical labs, a multi-state medical group and several joint ventures. In this role he was able to significantly decrease overhead while doubling revenues. Prior to this role he held the positions of Chief Operating Officer and Chief Executive Officer of the Oregon Region of PeaceHealth. He is also a member and past-chair of the Catholic Health Association Board of Directors and Executive Committee and served on the Premier, Inc. board of directors.
"I am excited for the opportunity to be a part of Accumen's continued growth because of their mission and commitment to partnering with health systems for success," said Yordy. "Creating healthier, high-value laboratories is essential to patient-centered care. I believe Laboratories are just the beginning for Accumen as to where their talent and capabilities can assist health systems capture and create sustainable value."
Yordy studied at Grinnell College for his undergraduate degree and graduated with Honors. He holds two master's degrees from the University of Oregon, including an MBA. He is a Fellow in the College of Healthcare Executives.
About Accumen Inc.
Accumen is a healthcare transformation company. Using a proven blueprint, innovative customized approach and proprietary technology, Accumen partners with health systems to set new standards of performance in the clinical lab- performance that drives higher quality, better service and unprecedented value. Accumen delivers proven results in Clinical Laboratory Operations and Patient Blood Management with solutions that are designed to help clients create healthier labs, healthier hospitals and ultimately, healthier communities.
Accumen – Accelerating Breakthrough Performance. Find more information at http://www.accumen.com.
Media contact
Cindy Judd
ACCUMEN
Chief Marketing & Communications Officer
847-404-9962
cjudd(at)accumen(dot)com