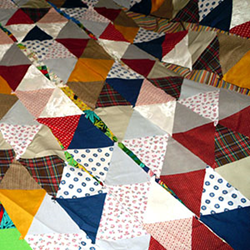 (PRWEB) February 16, 2016
"Art is, in many ways, a social interaction, and quilting is no exception. Learning a craft and creating something beautiful and useful, with other like-minded individuals in a pleasant atmosphere seems to be the feeling one gets in many quilt art shops, in person or online," said Joseph Ferriolo, Director at Wise Business Plans. "Wise is proud to now support the efforts of these important, traditional artists and teachers with service offerings that include newly expanded web design services geared toward artisans, allowing them to share patterns and sell their completed quilts."
He added that Wise now offers social media marketing graphics and design packages specially prepared for quilters and other artists.
In addition, Wise prepares business plans written by professionals with years of extensive business writing experience. Every business plan is custom tailored to fit the unique one-of-a-kind requirements of each particular client. The writers will consult with and provide valuable business knowledge to quilting business owners on how to best present their clients with ideas.
"For many of us, quilts fold us in memories, keep us warm and become art to enrich our lives. Wise Business Plans is here specifically to provide expert business help and quality planning to companies such as those that offer a place for artistically minded people to learn and practice their craft," said Ferriolo.
Wise Business Plans (http://www.wisebusinessplans.com), staffed with professional MBA writers, researchers and financial experts, is a trusted partner for businesses across a broad spectrum of products and services. Our mission is to empower our clients to make the best possible business decisions, boost company performance and facilitate their funding success by laying the groundwork for strong businesses that excite, inspire and retain talented and exceptional employees.