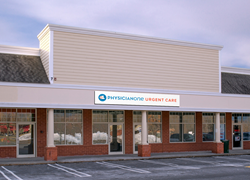 SOMERS, NY (PRWEB) February 23, 2016
PhysicianOne Urgent Care is excited to announce the grand opening of its very first New York state location in Somers.
PhysicianOne Urgent Care has experienced rapid growth over the past year and is pleased to continue its growth outside of Connecticut to provide high-quality care to the residents of Somers, New York.
The PhysicianOne Urgent Care location is now open to residents of Somers and their neighboring towns. As with all PhysicianOne Urgent Care offices, patients can expect superior care at affordable prices with cooperation with most major insurance carriers. Offering an array of services from urgent medical care to annual sports physicals, the providers of the Somers, New York, location will be highly trained and sensitive to all patients' needs. Other on- site services will include:

Comprehensive Medical Care from Common Colds to Broken Bones
Treatment for All Ages
X-Ray
Stitches
Lab Services
PhysicianOne Urgent Care's CEO Lynne Rosen is excited to bring exceptional care to residents when it is needed most. "Our exceptional team of providers and staff are pleased to provide high quality care and unmatched exceptional service to the communities we call home," said Rosen.
The Baldwin Place location will be located at 80 Route 6, Baldwin Place, New York in Somers Commons Shopping Center. This location is in the same plaza as Stop & Shop, New York Sports Clubs, and Home Goods.
About PhysicianOne Urgent Care
Established in 2008, PhysicianOne Urgent Care was the first in the market to be accredited and certified by the Urgent Care Association of America. PhysicianOne Urgent Care takes great pride in helping make families lives a bit easier. PhysicianOne Urgent Care's high quality medical care is a cost effective alternative to the Emergency Room as well as a convenient alternative to primary care physicians during off or peak hours. PhysicianOne Urgent Care provides walk-in treatment for a wide array of illnesses and injuries. On-site services include x-ray, wound stitching, and lab services.
All locations are open 365 days a year. Experienced providers are on-site at all times. Most insurances are accepted. For more information, please visit http://www.PhysicianOneUrgentCare.com.