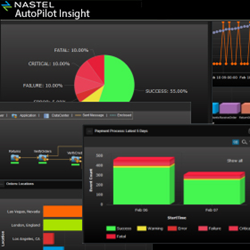 We are excited to provide our new cutting edge analytics and forensics capabilities to our global customer base said Charley Rich, VP Product Management at Nastel Technologies.
Melville, NY (PRWEB) February 18, 2016
Nastel Technologies, a global provider of software for Application Performance Monitoring (APM), delivering real-time application analytics, transaction tracking and forensics will present "Application Analytics for DevOps" at IBM InterConnect 2016 in Las Vegas. The presentation will be delivered on February 22nd at 7 pm in the Expo Theater in the Mandalay Bay Solution Expo.
Many organizations struggle with adopting DevOps. These businesses have invested in a large assortment of tools to make this work and yet there is still finger-pointing instead of collaboration. Nastel AutoPilot provides forensics for IT. Analyze the data from multiple sources, compare behavior across different times and locations, create metrics and search for the patterns that emerge.
Join Nastel Technologies and learn how AutoPilot can help by providing: continuous monitoring, tracking and analytics. Nastel AutoPilot creates and analyzes shared metrics across HDFS, Logstash, Flume, Syslog, Kafka, MQ, Spark, Log4j, JMS, Java and other data sources; tracks transactions across applications; and provides an easy-to-use natural language to inquire or subscribe to live metrics.
Nastel is also exhibiting at IBM InterConnect 2016 in booth 660. Nastel will be demonstrating its new AutoPilot Insight solution and end-user monitoring capabilities. AutoPilot Insight helps businesses gain instant insight into application performance by providing: a unified application analytics platform, automated transaction tracking, a wide array of data collectors and an English-like query language. All of this is built on an elastic architecture using clustered computing and NoSQL.
jKool will also be presented in the Nastel booth and show a solution that provides real-time analytics for the Internet of Things (IoT).
"2015 was an outstanding year for Nastel, with large wins, happy customers and new product innovation. Our laser focus on ensuring the highest levels of customer satisfaction combined with our relentless technical innovation has been the key to our revenue growth. With the addition of our new cutting edge analytics and forensics capabilities we are excited to provide continued competitive advantage to our global customer base" said Charley Rich, VP Product Management at Nastel Technologies.
Recently, Nastel was honored by Gartner's recognition of its accomplishments in the 2015 Magic Quadrant for Application Performance Monitoring Suites
The chosen APM solution for over 200 Fortune 500 and Global 2000 corporations, Nastel AutoPilot has earned a reputation for helping companies significantly reduce the frequency and duration of costly application outages. By providing real-time analytics and transaction tracking across multiple event sources, Nastel AutoPilot is able to evaluate situations in IT Operations as a whole as opposed to just individual events. This powerful approach can infer a root-cause from multiple events and deliver meaningful, actionable alerts at the same time it prevents false alarms.
About Nastel Technologies
Nastel Technologies is a global provider of application performance monitoring solution with real-time analytics, comprehensive transaction tracking and forensics. Nastel is a privately held company headquartered in New York, with offices in the U.S., the U.K., France, Germany and Mexico, and a network of partners throughout Europe, the Middle East, Latin America and Asia. For more information, visit us at http://www.nastel.com.