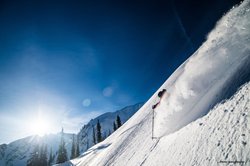 The more it snows, the more our users save!
Vancouver, BC (PRWEB) February 19, 2016
Skiers and snowboarders – get ready to hit the mountains and save money. Leavetown is proud to introduce a new snow report that doubles as an innovative way for riders to save cash. When a ski destination reports more than 20cm of snowfall in 24 hours, Leavetown gives away 5 Lodging Discount vouchers. Vouchers range from $20 to $50, and are redeemable at any destination Leavetown serves.
Leavetown is a local, Western Canadian company that is fully owned and operated by avid outdoor enthusiasts who have a wealth of insider knowledge about the destinations they sell and a passion for the activities they offer. Within the ski community, there is an unwritten rule that when more than 20cm of fresh snow falls overnight, powder chasers get to play hooky from work and go riding! The Leavetown team are all big skiers who follow the 20cm rule, and they wanted to share this experience with other snow enthusiasts. This led to the creation of the unique Leavetown snow report.
"Snow reports can be frustrating! They are often complicated and difficult to decipher," said Mike Liverton, CEO and Founder of Leavetown. "We wanted to create a report that would give us easy to compare, up to date snowfall information across a variety of destinations. As an added bonus for powder lovers, we also decided to offer Lodging Discount vouchers when the 20cm rule is in effect. The more it snows, the more our users save."
With the new snow report, skiers and boarders can immediately compare recent snowfall across 18 of BC and Alberta's best destinations, including Whistler, Revelstoke, Big White and Lake Louise. The Leavetown team are working to quickly expand this unique snow report to cover all ski destinations across Western Canada and the USA.
Information for Editors
Leavetown offers guests the ultimate mountain and adventure getaway experience with custom travel packages delivered through Destination Experts who provide a wealth of authentic knowledge and expertise.
For further information on Leavetown's snow report with savings, visit http://www.leavetown.com/snowreports or call Christina on 1.877.902.1616
Leavetown.com. Book like a local, explore like a pro.