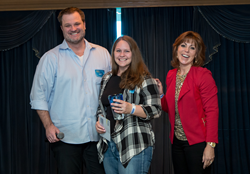 Houston, TX (PRWEB) February 17, 2016
When PrimeWay CEO, Annette Zimmerman, introduced her new management strategy she coined as "CARING" for compassion, accountability, real value, integrity, new ideas and guidance, she made it her mission to create an environment where people love to work and to do business. Now, PrimeWay Federal Credit Union has been recognized as one of the nation's top 101 companies to work for in 2015 by The National Association of Business Resources (NABR.)
Diversity, communication, work-life balance and retention are just some of the many categories used in the organizational assessment for the highly-esteemed award. All participating companies even have the opportunity to benchmark their results with other cities such as Los Angeles and New York.
The objective of the "CARING" management style was to put the credit union's members first, raise company morale and enthusiasm, and focus on long-term versus short-term results, creating a one-of-a-kind company culture backed by better earnings.
"Cultural change is what drives economic change, and cultural change doesn't happen overnight," Zimmerman said. "We have proven that if you put quality service first and add a little patience, better earnings and success will follow."
This national award is one that makes employees of the companies proud of their work, as well as provides insight for those job searching as to what to expect from these Best and Bright businesses. For more information regarding the National Best and Brightest Companies to Work For in 2015 awards, visit: http://101bestandbrightest.com/events/nationals-2015-best-and-brightest-companies-to-work-for/winners/.
About the company:
Since 1937, PrimeWay has been serving the greater Houston area, including Harris, Fort Bend and Washington counties. With a value statement representing compassion, accountability, real value, integrity, new ideas and guidance, PrimeWay leads the way in member service and putting families first. They take a vested interest in each of their members and employees, making PrimeWay truly a place where people love to work and love to do business.