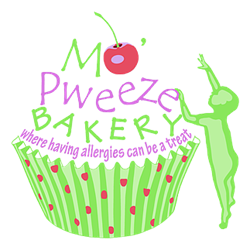 According to Food Allergy Research & Education, food allergies affect one in every 13 children in the United States.
Hawthorne, New Jersey (PRWEB) March 10, 2016
Mo'Pweeze Bakery, maker of allergen free vegan treats, will introduce itself to the New York Vegan community this May at the NYC Vegetarian Food Festival scheduled for May 7 and 8, 2016 at the Metropolitan Pavilion on West 18th St. This annual event includes dozens of purveyors of vegan foods and products, and is expected to attract thousands of visitors. Having previously exhibited at the Bethlehem Veg Fest in Bethlehem, PA, Mo'Pweeze is a regular attendee at regional specialty food events and area farmers markets. Currently attending Winter Markets in Sparta and Morristown, New Jersey, beginning in June the bakery will also be at Sparta, Westfield and Blairstown farmers markets for the summer.
In addition to delivery and pickup services, the bakery will also be launching a subscription cupcake service in the coming months to provide national customers with cupcake shipments on a monthly basis.
Founded two years ago, the bakery got its start when owner, Christine Allen, was unable to find a birthday treat for her young son who has more than 35 food allergies. Allen was told it was impossible to create a snack that her son could eat, so she decided to try for herself. She now works with customers to accommodate all allergens and provide other families with safe desserts.
According to Food Allergy Research & Education, a leading food allergy advocacy and research group, food allergies affect one in every 13 children in the United States. With so many children being affected and so many potential allergens to contend against, it can be difficult to find a treat that you can confidently share with your family. A problem that Mo'Pweeze Bakery is all too familiar with, the bakery is always dairy, egg, nut, tree nut, gluten, soy, fish, shellfish and sesame free to combat the most common food allergies.
To learn more about Mo'Pweeze and the baked goods they offer, call 1-973-664-7833 and visit them online at http://www.mopweezebakery.com.
Mo'Pweeze Bakery offers allergen free cupcakes and baked goods including cakes, breads and pies. Located in Hawthorne, New Jersey, scheduled pickups can be made and nationwide shipping is available for some item. Popular flavors include Choco Raspberry, Apple Pie and Blue Velvet.