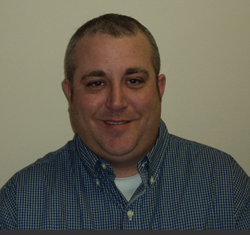 To aid our expansion, we are adding two new pieces of die-cutting equipment and an in-line converting machine...
Richmond, Indiana (PRWEB) February 19, 2016
Woodruff Corporation, the leading manufacturer of reusable, returnable and recyclable plastic shipping containers, point of purchase displays and retail packaging, recently announced the appointment of Todd Gray as plant manager at the company's Richmond facility. Woodruff, a division of Primex Plastics, is headquartered in Richmond, Indiana.
Gray, who most recently was the production manager NSK Corporation's Liberty, Ind. facility, will be responsible for all manufacturing operations and personnel and will report to operations manager Chris Helms. Gray was with NSK for 19 years, where he quickly rose through the ranks and directed a team of 140.
"Woodruff is expanding rapidly," according to Helms, "and we needed a seasoned professional like Todd to keep us moving forward. We are concentrating on new solutions for our customers and we required someone with Todd's experience in a high-volume environment".
According to Primex Plastics HR Director Darin Dubbs, "The need for a well-rounded production veteran was significant in our search. We feel we now have the right person to solidify our management team at Woodruff. This recruiting process is consistent with our ongoing efforts to continuously improve our human capital throughout our organization".
"Woodruff is known for the quality of our products, but I see a lot of opportunity to expand our operation and offer our customers solutions they haven't even thought of yet," said Helms. "To aid our expansion, we are adding two new pieces of die-cutting equipment and an in-line converting machine which improves our ability to get products to the market much faster."
With a recent emphasis on sustainability, manufacturers are looking for ways to reduce waste by deploying reusable and recyclable packaging. Woodruff offers instant green solutions and cost savings to anyone shipping raw materials, components or finished goods.
About Woodruff
From pellet to package, Woodruff does it all! Packaging, shipping containers, logistics, storage and point of sale, are just a few of our specialties. As part of the Primex Plastics "One Company" family of companies which includes O'Neil Color & Compounding, Woodruff offers a full production lifecycle from raw materials and design through prototyping and recycling. For more information, call (800) 935-2990 or visit http://www.woodruffcorp.com.