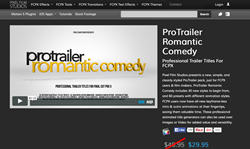 This FCPX Plugin comes with a great set of Intros and Outros !!
Aliso Viejo, CA (PRWEB) February 21, 2016
Pixel Film Studios presents a new, simple, and cleanly styled ProTrailer pack, just for FCPX users and film makers. ProTrailer Romantic Comedy includes 30 new styles to begin from, and 60 presets with different animation styles. FCPX users now have all-new keyframe-less intro & outro animations, saving valuable time. These professional animated title generators can also be used over Images or Video for added value and versatility.
ProTrailer Romantic Comedy comes with 30 all-new simply and cleanly styled presets for users to begin with. Each preset has two options, one with intro only animations, and one with intro & outro animations. Each preset includes an editable title and subtitle for users to type in whatever is desired, and works with any font.
ProTrailer Romantic Comedy gives users so many options to stylize within each preset, the creative options are endless. Each preset can be used over and over again, and made to look completely different. Full color options, shadow controls, and reflection adjustments are all at the users fingertips for added value.
ProTrailer Romantic Comedy has over 40 all new keyframe-less intro & outro animations for users to select from. FCPX users also have access to the start and end durations of the animations, so the kinetic movements can be quick or slow. Each title can be animated by word, line, or letter, depending on the users selection.
ProTrailer Romantic Comedy is an all new title generator tool designed specially for Final Cut Pro X Version 10.2.1 and newer. Utilizing the 3D text controls in FCPX is easy, and with the pre-made ProTrailer animations, infinite styles can be created. These generators also have environments that can be disabled, so it can placed on top of footage.
Established in 2006, Aliso Viejo, California-based Pixel Film Studios is an innovative developer of visual effects tools for the post-production and broadcast community. Their products are integrated with popular non-linear editing and compositing products from Apple FCPX. Apple, the Apple logo, Mac OS X, and Macintosh are registered trademarks of Apple Inc. in the U.S. and/or other countries. All other trademarks and trade names are the property of their respective owners.