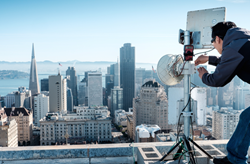 This upgrade to Gigabit Internet is just part of a series of upgrades we have rolled out to our customers over the years. - Charles Barr, Webpass President
San Francisco, CA (PRWEB) February 18, 2016
Webpass Inc, a San Francisco based Internet Service Provider (ISP) completed the successful deployment of 1 Gig Internet service to 1000 residential customers in California.
Over the past few weeks, customers in San Francisco, Oakland, Emeryville, Berkeley, and San Diego received email notifications that their Internet service speeds were upgraded to 1 Gig at no additional cost.
1000 Mbps Internet service, commonly referred to as "Gig Internet" or "Gigabit Internet" is the latest buzzword in an industry filled with upstarts and entrenched providers attempting to deliver faster service to customers who are clamoring for it.
Almost all of these Internet service providers announced intentions to deliver Gig Internet, however, their timeline to deliver the service remains elusive.
"While 1000 customers is a small percentage of our customer base, the number of gig service customers will continue to grow across our California network in the next few months. This upgrade to Gigabit Internet is just part of a series of upgrades we have rolled out to our customers over the years," reports Charles Barr, Webpass' President. "In fact some of the customers who were upgraded have been with Webpass since 2003 so they are accustomed to the upgrade cycle. To them this is just the normal customer experience with Webpass."
Webpass has upgraded its residential Internet service offering several times in the past. The dates provided on the Webpass blog are:

2003 - 10 Mbps Internet Service Launched
2005 - 45 Mbps Internet Service Launched
2007 - 100 Mbps Internet Service Launched
2011 - 200 Mbps Internet Service Launched
2014 - 500 Mbps Internet Service Launched
2015 - 1 Gig Internet Service Launched
At the city government level there is buzz as well about Gigabit Internet service and faster Internet speeds for the city of San Francisco.
"Our Internet Franchise Ordinance proposal is the best method to improve Internet connection speeds at the city level so that Gig Internet service is no longer confined to a few cities in the US and to providers offering elusive timelines," committed Mr. Barr.
Find out more about Webpass, their Gigabit service, and the Internet Franchise Ordinance proposal at webpass.net.