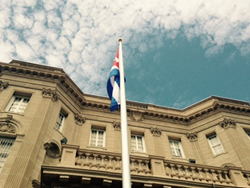 We hope the President sees firsthand the potential of collaborating with Cuba's leading biotech centers, medical schools, and strong public health system
Oakland, CA (PRWEB) February 18, 2016
Medical Education Cooperation with Cuba (MEDICC) announced support today for President Obama's upcoming, historic trip to Cuba. For nearly two decades, MEDICC has engaged with the U.S. and Cuban health communities to improve health.
"We hope President Obama's visit will prioritize discussions to improving cooperation in health that will benefit Americans such as opening up joint ventures for vaccines against cancer, Zika, and other illness; and remove obstacles for Cuban medicines that are not available for U.S. patients including lifesaving diabetic foot ulcer medication that reduces amputation risk by 70 % for people with diabetic foot ulcers," said MEDICC executive director Dr. Pierre LaRamée. "We hope the President sees firsthand the potential of collaborating with Cuba's leading biotech centers, medical schools, and strong public health system."
The MEDICC white paper, released today, "A Safer, Healthier Future through U.S.-Cuba Cooperation" highlights actions the president can take now, including eliminating barriers to the U.S. regulatory approval process for Cuban developed biotech and other innovations and to remove obstacles to joint ventures between U.S. and Cuban entities in health.
MEDIA INQUIRIES: Dr. LaRamée is available for interviews today. Please contact: Jeannie Barbieri-Low for availability at: 805-284-7959.
Since 1997, MEDICC has worked to enhance cooperation among the U.S., Cuban and global health communities aimed at better health outcomes and equity. MEDICC produced the feature film ¡Salud! and publishes the MEDLINE-indexed journal MEDICC Review. MEDICC supports research in Cuba by U.S. health professionals, assists U.S. students and graduates of Havana's Latin American Medical School to return to U.S. underserved communities, and organizes Community Partnerships for Health Equity to improve health care and access in communities including: South Los Angeles and Oakland, CA; Albuquerque, NM; Bronx, New York; Summit County, Ohio; Milwaukee, Wisconsin; Red Mesa, Navajo Nation; as well as with four California Endowment Building Healthy Communities sites (Kern County, Del Norte County, San Diego and South Los Angeles). http://www.medicc.org and http://www.medicc.org/mediccreview