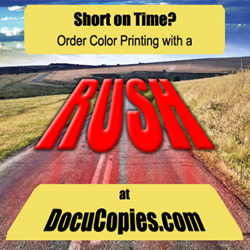 We hope some of the others in our industry take a look and say, 'They can't do that!' It won't be the first time.
(PRWEB) February 19, 2016
Online shopping is officially mainstream, but there is still a prevailing wisdom that people must shop local if they need things the next day. But DocuCopies.com aims to quash that fallacy in the digital color printing world.
This month, DocuCopies.com has again raised the bar for online printing with their advanced checkout system. This allows customers to choose their turnaround time and set deadlines with just one click, including next-day delivery.
The automated cost calculator does the math and chooses the least expensive way to meet a customer's deadline. Standard ground shipping, which is free on any order over $125 (lower 48 states only), shows an estimated range of three days in which the jobs will arrive. The site shows incremental price changes associated with receiving the job each day before the estimated date. Clicking on one of these dates shows their total price and confirms the guaranteed delivery.
"In the past, customers had to figure out how long their job takes to produce, how many days it takes to ship, and whether they can do Next Day Air or need to ask for rush production," says Jeff Corbo, the company's vice president and director of marketing. "This new feature makes it so much easier and quicker for a customer to get a guaranteed delivery date."
The customer service staff are accustomed to fielding calls about rush orders. But it's been hard to gauge how many potential customers never bother to call because they assume it isn't possible.
"After a week, we're already seeing impressive results," Corbo elaborates. "People love having that guarantee right in front of them without needing to call or email."
DocuCopies.com has been at the forefront of the online printing industry since the beginning. The company began as a brick-and-mortar printing company in the early 1980s. As the Internet took off in the mid-'90s, they began to shift their focus to e-commerce and website development. In 2000, they launched DocuCopies.com and helped redefine the limits of discount printing and online business-to-business marketing. Though others have followed in similar footsteps, the trendsetters at DocuCopies.com continue to offer the best prices available on their most popular products, and this new evolution in speedy delivery promises to keep their client base growing.
"We hope some of the others in our industry take a look and say, 'They can't do that!'" says Corbo. "It won't be the first time."
For more information on DocuCopies.com and their new guaranteed-delivery checkout system, visit them online at http://www.DocuCopies.com.