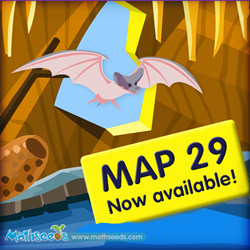 (PRWEB) February 20, 2016
Children can now enjoy five new online math lessons in the popular early math program, Mathseeds.
The publishers behind the award-winning learning program have recently launched their latest installment, Map 29. This new map covers key math skills and concepts including word problems, comparing lengths using data, quadrilaterals, and more.
The new expansion features a range of interactive math games and activities developed and created specifically for early math learners.
Mathseeds now includes 145 highly structured lessons designed to ensure that key math concepts are learned in-depth in order to improve long-term retention. The fast growing program includes thousands of self-paced learning activities, fun songs, colorful animations, topic specific readers, and collectible pets. These entertaining and engaging elements of the program motivate children to stay on task.
The team behind Mathseeds – who are also behind the popular online reading program, Reading Eggs – have been producing high-quality math resources for more than 30 years, and continue to produce innovative and engaging educational products and programs.
Mathseeds covers key concepts learned in grades K to 2 and is designed to teach children the fundamental math skills needed to prepare them for their early years of school.
Each map is set in a unique location, including a garden, desert, rainforest, and wetlands. Map 29 is set in a cave, with five cave-dwelling pets that children can collect at the end of each lesson. At the end of each map, children complete a multiple-choice quiz, and if they pass, are awarded a printable certificate. Parents also have access to a parent dashboard, where they are able to track their child's progress and download reports.
Mathseeds is compatible with PC, Mac, and iPad and Android devices. The program can be accessed directly via the Mathseeds website through a browser or by downloading the free Reading Eggs Student app for the iPad. For more information on compatibility, please visit http://www.mathseeds.com/about/faqs/.
New users can access a free two-week trial by registering at http://www.mathseeds.com/. More information is available at http://www.mathseeds.com/ or by emailing info(at)mathseeds(dot)com.