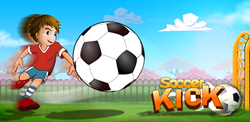 Soccer Kick Football Game receives rave reviews from the users on Google Play
Hyderabad,India (PRWEB) February 20, 2016
The newly launched mobile soccer game by 7Seas Entertainment Limited, "Soccer Kick " has received great reviews from users on Google Play. The app currently features an average rating of 4.5 out of 5 on the app downloading website.
"Excellent & Lot of Fun with Entire Family enjoying the game. Unique Soccer Casual Sports Game and this version has exceeded our expectation. Great! This game is great! I can play this for ages without getting bored!" says Samuel Edge. Another user Michael Brown says "Best game ever Just loved it, so much fun."
This gaming app has started to gain popularity among users within a few weeks of its launch. "Soccer Kick" is a simple game to be played during free time. As the player moves further in the game, they will be pushed farther from their target which keeps the challenge alive in the game. With each next level, the difficulty rises and keeps the user engaged for a long time.
This game is better than other soccer ball games, because of its unique and exciting features. To play this game, simply touch the screen and drag and pass it to the other player to aim the ball at the goal. The aim is to kick and hit the ball to the goal post and get the best shot. Different strategies and techniques need to be used to get the soccer ball to the goal.
The game is designed as a shooting or soccer game for football lovers and can be played by all age groups. The app features easy and user friendly interface with easy to use controls. In total, the game has three modes with 60 different fun and challenging levels which will keep the user interested and engages in the game for a long time. Hitting multiple objects with the ball, will gain awards and more points. Players can select from 3 different modes: Snow County, Willis Park and Scott Factory.
"Soccer Kick" is built with nice quality animation and graphics for a great gaming experience. It is compatible with all tablets and mobile devices and available for free download at Google Play.
Download "Soccer Kick" at: https://play.google.com/store/apps/details?id=sevenseas.soccerkick&hl=en