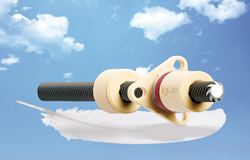 East Providence, RI (PRWEB) February 21, 2016
Featuring tribologically optimized plastic lead screw nuts and hard anodized aluminum screws, new dryspin lead screw options offer considerable weight savings, as well as the reduction of required maintenance and external lubrication, with dramatic increases in service life due.
A range of lead screw diameters are available, ranging from six to 20 millimeters. Utilizing asymmetric geometry to reduce friction, vibration and wear rates, dryspin lead screws and nuts are an excellent alternative to stainless steel options.
According to Stefan Niermann, head of DryLin linear technologies at igus GmbH, "aluminum is not only very light and corrosion free, but it also achieves extremely high wear resistance and low coefficients of friction due to the hard anodizing process."
A wide range of lead screw nut types are available, created from highly engineered and tested self-lubricating iglide materials, including anti-backlash options, and lead screws are available in a range of thread options. All lead screw sizes previously only available in stainless steel are now available in rugged, lightweight anodized aluminum.
About igus®
igus® develops industry-leading Energy Chain® cable carriers, Chainflex® Motion Cables, DryLin® linear bearings and linear guides, iglide® plastic bushings, and igubal® spherical bearings. These seemingly unrelated products are linked together through a belief in making functionally advanced, yet affordable plastic components and assemblies. With plastic bearing experience since 1964, cable carrier experience since 1971 and Motion Cables since 1989, igus provides the right solution from over 100,000 products available from stock. No minimum order required. For more information, contact igus at 1-800-521-2747 or visit http://www.igus.com.