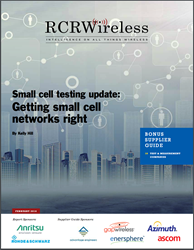 Small cells are finally beginning to see the momentum that was expected for them, and even larger deployments are expected this year.
Austin, Texas (PRWEB) February 23, 2016
As more small cells are deployed, scalability and reproducibility become central to return on investment, and new industry solutions are available that seek to streamline processes and shrink costs in order to make small cells viable on a large scale. This report looks at challenges involved getting small cells online, including siting and RF challenges; how vendors and operators are supporting more efficient processes; and balancing lab and field testing in complex, heterogeneous networks.
The report, entitled: "Getting Small Cell Networks Right," contains vital takeaways including how the market has evolved over the past 12 to 18 months; where we stand today in terms of the small cell market and expectations for the technology going forward; expert observations on what makes a successful small cell deployment, and pitfalls to avoid; a gathering of carrier and infrastructure companies' stated plans for small cell investments; and the influence of "Internet of Things", the use of LTE in unlicensed spectrum and 5G network evolution on small cell strategies.
"Small cells are finally beginning to see the momentum that was expected for them, and even larger deployments are expected this year. This is being driven primarily by capacity needs," said RCR Wireless News Editor Kelly Hill. "There's also a growing desire to utilize unlicensed spectrum in addition to LTE, and operators' awareness that they will need highly dense, distributed, small cell-based network architectures to address IoT and 5G applications. Macro sites aren't going away, but we're getting past the first, painful growing stage for small cells, and the industry is getting a better handle on making the numbers for return on investment and scalability work."
Download this report to learn:

Key technical and deployment issues for small cell technologies and how the industry is meeting those challenges
Trends toward more distributed architectures including small cell, distributed antenna systems and cloud-RAN
Recent news and developments in the small cell space
Insights from analysts, installers, and vendors on real-world small cell deployments and lessons learned
An exploration of the potential role for signal boosters
Bonus: Supplier guide including test companies supporting the small cell ecosystem
Watch the complimentary editorial webinar featuring:

Kelly Hill, Editor, Test and Measurement, RCR Wireless News
Emil Olbrich, Vice President, Network Technologies, Signals Research Group
Dennis McColl, PMTS Maintenance Engineering, Verizon Wireless
Dan McVaugh, COO, Centerline Solutions
Click here to download this special report.
About RCR Wireless News
Since 1982, RCR Wireless News has been providing wireless and mobile industry news, insights, and analysis to industry and enterprise professionals, decision makers, policy makers, analysts and investors. Our mission is to connect, globally and locally, mobile technology professionals and companies online, in person, and now on video. Our dedication to editorial excellence coupled with one of the industry's most comprehensive industry databases and digital networks leads readers and advertisers to consistently choose RCR Wireless News over other industry publications. http://www.rcrwireless.com