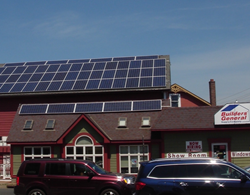 Our partnership with Key Equipment Finance and Trinity Solar allowed us to maximize our tax benefits, easily complete the solar installation at our four locations, and quickly begin to realize energy cost savings. - John Ciullo, Builders' General CFO
Superior, CO (PRWEB) February 23, 2016
Key Equipment Finance, one of the nation's largest bank-held equipment finance companies and an affiliate of KeyCorp (NYSE: KEY), today announced it has partnered with Trinity Solar, a major retailer and installer of solar power systems in the northeastern United States, to complete a $1.2 million solar installation for Builders' General Supply Company.
Key Equipment Finance provided a solar tax lease that uses the 30 percent federal Investment Tax Credit (ITC) and depreciation to reduce lease payments for Builders' General.
"Green-energy financing provides multiple benefits to companies like Builders' General," said Doug Beebe, vice president, energy finance for Key Equipment Finance. "It positively impacts the environment of local communities, alleviates concerns about energy rate increases, and demonstrates sustainable practices for customers."
Trinity Solar designed, engineered, built and installed the rooftop solar arrays totaling over 405 kilowatts across Builders' General's four locations in New Jersey.
"Trinity Solar is proud to serve companies like Builders' General, which is progressive and in tune with its sustainability minded customer base," said Jim DeCicco, vice president of commercial sales and finance for Trinity Solar.
Builders' General is consuming the solar power and receives income from New Jersey's Solar Renewable Energy Certificates. The company is projected to generate over 450,000 kilowatt hours annually, which equates to about 842,000 pounds of carbon dioxide removed from the atmosphere or 304,000 gallons of water saved. Builders' General estimates the installation will generate $990,000 in energy savings over its 10-year life span.
"Energy efficiency and green practices are a priority for Builders' General, as well as the many builders, contractors, remodelers and home owners who rely on our stores and showrooms for their building supplies, " said John Ciullo, CFO for Builders' General. "Our partnership with Key Equipment Finance and Trinity Solar allowed us to maximize our tax benefits, easily complete the solar installation at our four locations, and quickly begin to realize energy cost savings. It's a win-win-win result."
Key Equipment Finance offers equipment financing and business leasing solutions to a range of business types and industries. Learn more at http://www.keyequipmentfinance.com.
About Key Equipment Finance
Key Equipment Finance has been in the equipment finance business for 43 years and is one of the largest bank-based equipment finance providers in the U.S. The company provides tailored equipment lease and finance solutions for commercial clients and government entities. Through its manufacturer and vendor alliances unit, equipment finance programs are developed for manufacturers, distributors and resellers.
Key Equipment Finance's innovation markets group includes an energy finance team, which provides leases tailored to the energy market. Headquartered outside Denver, Colorado, Key Equipment Finance manages nearly $10 billion in assets and originates over $4.5 billion of equipment financing annually. For more information, visit http://www.keyequipmentfinance.com.
About KeyCorp
KeyCorp was organized more than 160 years ago and is headquartered in Cleveland, Ohio. One of the nation's largest bank-based financial services companies, Key had assets of approximately $95.1 billion at December 31, 2015.
Key provides deposit, lending, cash management and investment services to individuals and small and mid-sized businesses in 12 states under the name KeyBank National Association. Key also provides a broad range of sophisticated corporate and investment banking products, such as merger and acquisition advice, public and private debt and equity, syndications and derivatives to middle market companies in selected industries throughout the United States under the KeyBanc Capital Markets trade name. For more information, visit https://www.key.com/. KeyBank is Member FDIC.
About Trinity Solar
Trinity Solar began as a family-owned HVAC company in 1994 and transitioned in 2004 toward installing solar electric systems for homeowners and businesses. The organization now employs over 900 personnel in several states serving over 35,000 energy-related clients, with more than 14,000 solar electric systems totaling over 160 MW operating on the East Coast. Trinity is one of the largest solar companies in the country and is an industry leader that has received local and national recognition for its achievements in the energy industry. For more information about Trinity Solar visit http://www.Trinity-Solar.com.
About Builders' General Supply Company
Builders' General Supply Company was incorporated in 1931 as a retail outlet for a general line of building materials in Cranford, New Jersey. Today the company operates from four locations; Little Silver, Edison, Toms River and Freehold equipping the company to serve their customers over the entire state of NJ, as well as New York and Pennsylvania. Some of the larger projects that BGS has supplied include Giants Stadium, Meadowlands Race Track, Newark Airport, multiple AT&T Headquarters, Atlantic City Casinos, Long Branch Boardwalk & Shops, Newark, Hoboken & Jersey City inner city redevelopments, as well as our daily service to an existing general contractors and home builders of over 3000 customers.