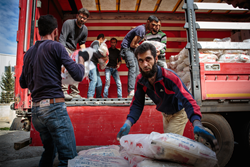 Portland, Oregon (PRWEB) February 20, 2016
Statement from Neal Keny-Guyer, Chief Executive Officer of Mercy Corps:
"We are gravely concerned and disappointed that the partial cessation of hostilities in Syria – which was to commence yesterday – has been delayed, again. Instead, violence on all sides of the Syrian conflict has significantly escalated, threatening innocent civilians and jeopardizing the humanitarian operations assisting them.
"Over the past five years in Syria, we have too often witnessed humanitarian deliveries delayed or denied because of the routes aid agencies take, which organization is able to deliver them, or under whose control those in need are living.
"Thousands of families continue to flee bombs and bullets. Since February 1, our teams have witnessed some 72,000 people navigating battlefields to reach the relative safety of the border with Turkey; some have found shelter in camps there, but at least 27,000 others sleep in the open air. Many Mercy Corps team members have themselves escaped their homes and are now living in tents.
"Meanwhile, millions more innocent men, women and children across Syria remain trapped in the crossfire of this war. This week's United Nations aid convoys, while welcome, reached only a small fraction of the people in urgent need of lifesaving assistance.
"It is imperative that all humanitarian actors, including local Syrian aid associations, be able to reach communities in need throughout all of Syria swiftly, without restrictions and through the safest, most direct routes.
"Mercy Corps calls for unfettered, sustained humanitarian access for all Syrian civilians. Now."
About Mercy Corps: Mercy Corps is a leading global organization powered by the belief that a better world is possible. In disaster, in hardship, in more than 40 countries around the world, we partner to put bold solutions into action – helping people triumph over adversity and build stronger communities from within. Now, and for the future.