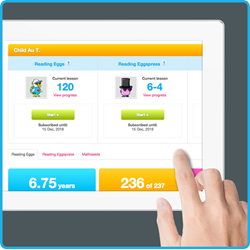 (PRWEB) February 23, 2016
Parents of children who are learning to read can now take a step-by-step guided tour of the award-winning learn to read program, Reading Eggs.
Reading Eggs is a comprehensive online learning program designed to help children aged 3 to 13 years learn to read. Parents are able to register for a free trial online to try the program with their child.
The new guided tour invites parents to be more involved in their child's learning, and to make full use of the program's tools and features.
New users who register for a free trial can now choose to explore the program before their child begins learning. Instructive pop-ups highlight popular features and useful parent tools in the Reading Eggs parent dashboard, including detailed assessment reports, the ability to adjust their child's progress or reset a placement test – to ensure they are working at the right level – and bonus material, such as downloadable worksheets that correspond with the online lessons.
Parents will also be recommended the most suitable programs for their child, based on the child's age. Reading Eggs offers three online learning programs which can all be accessed during the free trial period, including Reading Eggspress, the literacy program for children in grades 1 to 7, and Mathseeds, an early math program for 3 to 8 year olds.
The new guided tour feature is designed to encourage parents to participate more actively in their child's learning and help users get the most out of their free trial. Reading Eggs currently sends detailed progress reports to parents as their child progresses through the lessons, which lets them know what reading skills their child has learned, including phonic letters and sounds, high frequency sight words, and new vocabulary words.
Reading Eggs is also set to release sample lessons to allow parents and homeschoolers to try out the lessons themselves. This new feature is forecasted to be of particular value to users who would like to implement a structured reading program for their child at home.
For more information visit http://www.readingeggs.com. New users can register for a free trial on the Reading Eggs website.